Trey Rabon, President of AT&T NC on Deck for next Focus Friday - March 18th 8:30-9:30
Trey Rabon, President of AT&T NC on Deck for next Focus Friday - March 18th 8:30-9:30
Focus on: 5G technology, Digital streaming, Data privacy, and Big tech: control, content and censorship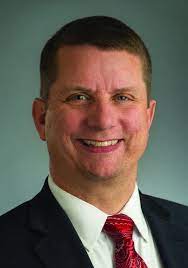 The Lake Norman Chamber will host Trey Rabon, the President of AT&T NC for the March Focus Friday – Friday March 18th at 8:30-9:30 am virtually. The program will be streamed via ZOOM for Lake Norman Chamber of Commerce Members and selected guests. The video recording will be available for later viewing via the Chamber's YouTube Channel. Mr Rabon will speak on the direction of telecommunications and data privacy. He is also expected to touch on 5G Technology capabilities and where it is headed in the future, digital streaming, and Big Tech – control, content, and censorship.
Jeff Tarte, former Cornelius Mayor and North Carolina State Senator, will emcee the program. Tarte is the 2022 Public Policy Chair of the Chamber. Members can join the discussion live via ZOOM by requesting Zoom credentials at Sylvia@lakenormanchamber.org or by calling the chamber 704-892-1922.
Focus Friday is a public policy program of the Lake Norman Chamber of Commerce which examines community and legislative issues from multiple perspectives. While intended for Lake Norman Chamber of Commerce members and community leaders, guests are welcome by RSVP.
The program is presented by Novant Health - Huntersville Medical Center and sponsored by Business Today and WSIC 100.7 FM.
The Lake Norman Chamber of Commerce, with approximately 850 business members, represents the Huntersville, Davidson, Cornelius, and greater Lake Norman regional business community.
About our Speaker: Trey Rabon
Current AT&T position: President, AT&T North Carolina
Previous AT&T jobs:
ArrowDirector, Government Affairs - Raleigh, NC
ArrowArea Manager of External Affairs - Jackson, TN
ArrowService Consultant and Project Manager - AT&T Global Business Services - Columbia, SC
Education: Bachelor's Degree in Mass Communications and a Master's of Business Administration in International Business from the University of South Carolina
Goal for 2019: Collaborate with policymakers and key business stakeholders to make North Carolina a technology leader by streamlining regulatory approvals and incentivizing private investment in next generation broadband infrastructure.
Best thing about working for AT&T: Working alongside our dedicated employees who are committed to excellence and doing whatever it takes to provide best in class service to our customers.
Last book read/Favorite book/inspirational book: Extreme Ownership: How U.S. Navy SEALs Lead and Win
Favorite vacation: Disney Cruise for 7 days in eastern Caribbean
Community volunteer: Youth sports and Troop 141 of the Occoneechee Council of Boy Scouts of America
Family: A native of Camden, SC, Trey and his wife, Dawn, live in Wake Forest, NC, with their two children.