The Power to Make a Difference
The Power to Make a Difference
Investing in our Future
Published Friday, April 9, 2021
Spring is in the air, the azaleas are in full bloom and business is back at the lake! While we must continue to be diligent and cautious as we return to our favorite activities, consumers are again taking to their favorite retail stores and restaurants are seeing a resurgence of business.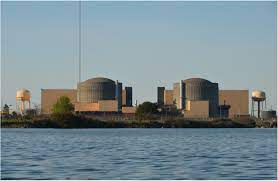 One essential, and often overlooked component of our business vitality is having the critical infrastructure in place that our current businesses rely on and is necessary in recruiting new companies and employment to the lake region. Perhaps the most significant piece of that infrastructure is reliable, affordable, and increasingly clean energy.
We give little thought about it when we flip on the light switch, pull something out of the refrigerator, or simply do the laundry. But a 30-minute power loss could completely upend business operations or leave our household in a real mess.
We were recently reminded by the heartbreaking blackouts in Texas that energy is an essential service for everyone. Unlike the bridges and roads we all see on our daily commute, our energy infrastructure is something that is mostly unseen and many of us take for granted. As we adopt more renewable energy to meet sustainability goals and defend against severe weather events, our continued investment in the energy grid is critical.
Duke Energy, who supplies the power for much of Lake Norman, is an important community partner working with the chamber of commerce, our municipalities, and our economic development agencies to meet the demands of business, assisting in business growth and development, and attracting new jobs and companies to the region.
The Lake Norman Economic Development Corporation, working closely with Duke Energy assisted Novant Health – Huntersville Medical Center in their recent expansion which included a four story tower with 60,000 square feet and 44 new beds – a $50 million dollar investment into our community.
The Lake Norman Chamber of Commerce recently adopted the 2021 Legislative Agenda which calls for legislative action to reduce carbon emissions, modernize the grid, and keep energy prices as affordable as possible.
To meet sustainability efforts and the demand for a clean energy economy, we must work closely with our partners like Duke Energy to ensure the electric grid can support the influx of renewable energy and advanced clean energy technologies like solar, battery storage and electric vehicles.
What can you do? As a community, we must all call on leaders at the local, state, and federal levels to prioritize investments in the electricity grid and to boost clean energy adoption and technology.
We should do this not just because our quality of life and economic prosperity depend on it but because of the generation who will inherit our community tomorrow – our children.
Decades from now, let us hope that this generation is looked back on as leaders who could have made a significant investment in our future, leaving our communities better than we found it… and we did.
W.E. "Bill" Russell, CCE, IOM
President & CEO