Race City Marine Recognized as Mooresville Small Business of the Year by Chamber
Race City Marine Recognized as Mooresville Small Business of the Year by Chamber
Business Among Four Recognized by the Lake Norman Chamber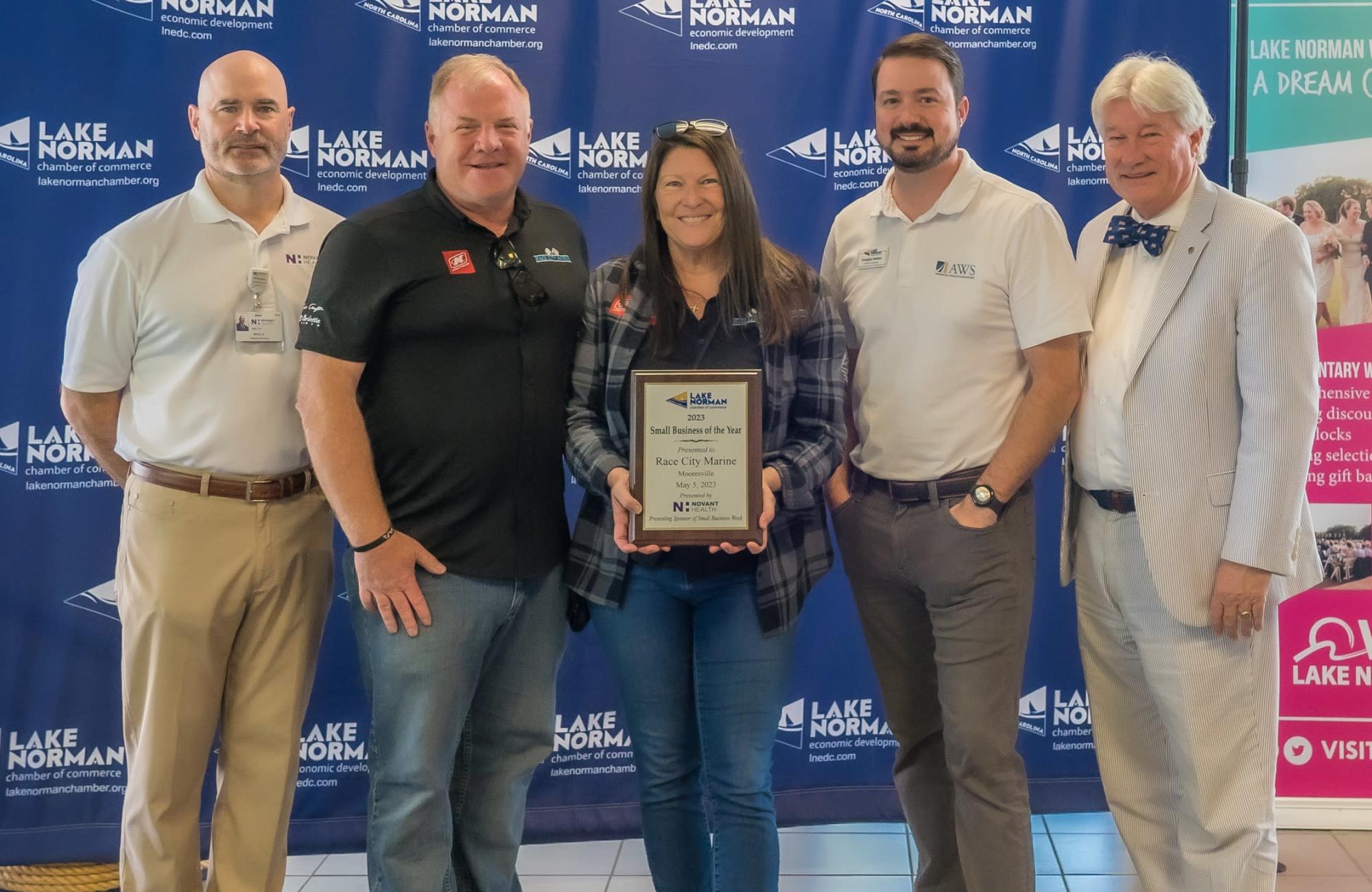 Local business and community leaders gathered at the Lake Norman Chamber of Commerce to celebrate Small Business Week and to recognize local small businesses who have excelled in their market. On hand to take part in each presentation were elected officials from Mooresville, Huntersville, Davidson, and Cornelius, as well as Chamber members and staff.
2023 Chamber Board Chair Douglas Marion stated that the Chamber was honoring a Small Business in each local community served by the 850-member chamber of commerce. Marion cited the accomplishments of each business including the strong involvement each has in the region giving back to their community that has allowed their business to prosper. The business owners were provided an opportunity to share their thoughts on the recognition followed by comments from their respective elected officials.
Among those recognized was Matt and Lynette Santomenna of Race City Marine. Marion read from the submission which quoted Lynette on how the business was created in 2008, "We believe the story of how our dealership was born is equally important as our mission to serve families and grow the love of watersports in North Carolina. Race City Marine is a family owned and operated dealership which promotes the love of watersports and brings families together while enjoying boating."
Santomenna added, "We felt the Lord leading us to begin a new journey and start a small boat service shop in Mooresville. At that time the economy was crashing, but we trusted God and walked by faith, not by sight. Matt quit his corporate job at GE and started servicing boats with a borrowed bag of tools and a service bay. There are many miracles along the way and we became the Charlotte Nautique dealer in 2011, making us a full sales and service dealership. And that was just the beginning! We added Barletta Pontoons 3 years ago & Chris Craft boats 2 years ago. After 12 years of renting we were blessed to find land and build our dream dealership on HWY 150 next to Big Daddys and moved into it in March 2021! Our new dealership gives our customers a top-level experience and our team a great working environment."
Others recognized by the Chamber included Deborah Young - Deborah Young Studios; Todd Olson, Artistic Director of the Davidson Community Players; and Ron Gomilla Owner of Lake Norman Graphics.
Chamber President & CEO Bill Russell reminded everyone that a more detailed write up on the businesses will be available through the Chamber's website at LakeNormanChamber.org. Small Business Week was Presented by Novant Health – Huntersville Medical Center.
The reception was part of the Lake Norman Chamber's weeklong salute to Small Business (April 30 through May 6) in conjunction with the Towns of Davidson, Huntersville, Cornelius, Mooresville and the Small Business Administration.
"At Race City Marine, we want to reach our community, our country and our world with a message of positive change and hope for a future.
We believe it's a large part of our purpose to give back!
Jeremiah 29:11"