North Mecklenburg Police Recognized by Lake Norman Chamber of Commerce
North Mecklenburg Police Recognized by Lake Norman Chamber of Commerce
Annual Public Safety Luncheon Recognizes The Best of the Best
The Lake Norman Chamber of Commerce recognized police officers from Cornelius, Davidson, and Huntersville at the 20th Annual Public safety Luncheon. Chamber Board Chair David Keith presented the awards along with the respective mayor and department chief or representative at the sold out event held Thursday, October 20th. Honored were: Sergeant Greg Frostbutter - Davidson Police Department, Corporal Dominic Saladino - Cornelius Police Department, and Officer Matt Cadwallader - Huntersville Police Department.
Below is the full text of their recognition: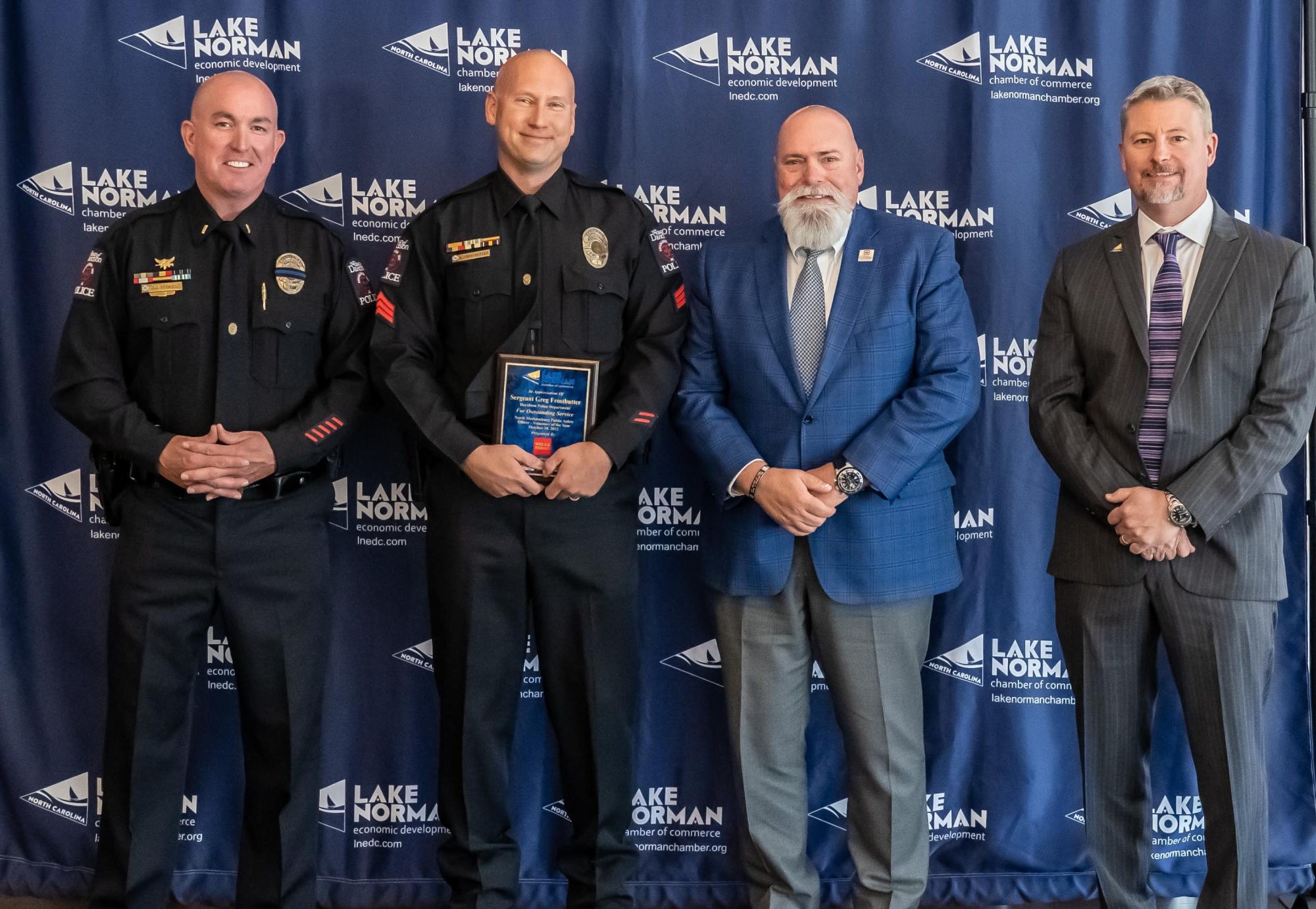 Sergeant Greg Frostbutter- Davidson Police Department
Sergeant Greg Frostbutter is being honored by the Lake Norman Chamber of Commerce and the Town of Davidson for his continuous dedication to the Davidson community. A patrol Sergeant is not just responsible for their team, but is often called upon as a mentor, mediator, and skilled leader. The Town of Davidson Police Sergeants also wear many hats within the organization. Sgt. Frostbutter excels as in all and in the extraneous responsibilities he volunteers to take on in addition to his regular duties.
Sgt Frostbutter routinely dedicates time to improving the performance and knowledge of new and current officers through legal updates, role-play scenarios, and leading by example. He puts significant effort into mentoring and developing our officers and supervisors. He constantly identifies areas for improvement and develops training to address weaknesses. The benefits are not quantifiable, but the impact is broad for the individuals, the Department, and our community.
As a supervisor, he sets a high standard for other Sergeants. Even though he is one of the most humble people you will ever meet, he comes to work daily displaying competency, integrity, dedication, passion, and selflessness. His performance consistently exceeds all expectations. He creates and fosters a teamwork environment to deliver excellent service to all.
Sgt. Frostbutter is also an extraordinary problem solver. Some of his recent projects involved many stake holders to include one of our apartment complexes, HOAs, and the NC Department of Transportation. The apartment complex experienced numerous crime-related calls for service involving various tenants. Sgt. Frostbutter identified civil means to resolve the issues allowing for a more peaceful environment for the other tenants.
With one particular HOA, Sgt. Frostbutter held meetings to discuss community concerns and provided defined actions law enforcement could assist with to resolve issues and provided appropriate options to prevent police from being the first call when not warranted. This type of work improves the quality of life for residents and benefits the department by reducing calls for police for non-police matters.
The work with NCDOT is one example of Sgt. Frostbutter's capabilities as a leader and mentor while being a problem solver to address a serious public safety concern. Two areas on East Rocky River Road have created traffic safety concerns for our community. Major accidents have occurred repeatedly and many occupants of the vehicles have suffered severe injuries. Sgt. Frostbutter enlisted the assistance of a young officer to demonstrate how to work with outside agencies to solve problems and how to gather data to support requests for improvement to roadways. This involved work with the NC Department of Transportation, Town of Davidson Public Works, and nearby residents to address the issues. Improvements have begun and additional recommendations from Sgt. Frostbutter are being reviewed by transportation engineers for implementation.
A supervisor who consistently displays these characteristics is remarkable and deserves recognition for his commitment to serve and for his leadership skills used to develop future law enforcement leaders.
Corporal Dominic Saladino - Cornelius Police Department
Corporal Dominic Saladino has been selected to represent the Cornelius Police Department as the Officer of the Year.
"Over the course of the past year, Corporal Saladino has demonstrated a strong work ethic to work any case assigned to him to his full ability. He has solved numerous cases that go well beyond the scope of his basic duties. He completed his first federal case resulting in a conviction through collaboration with the ATF.
The offender was a repeat offender in the Town of Cornelius and was sentenced to eight years in federal prison. He currently has another case that is under review by the ATF from a search warrant he completed after responding to a shots-fired call. During that call, Corporal Saladino observed firearms and executed a search warrant resulting in several firearms being taken off the street; including one that was stolen.
He most recently completed a second search warrant after responding to a call for service and observing narcotics in plain view. The search warrant resulted in warrants being obtained for trafficking methamphetamine and trafficking heroin. Corporal Saladino's desire to give it his all while working his cases goes well beyond the scope of his job requirements.
He has shown he is an employee who is self-motivated and will see a case through from beginning to end. For these reasons, Corporal Saladino was selected as the Officer of the Year for the Cornelius Police Department."
Officer Matt Cadwallader - Huntersville Police Department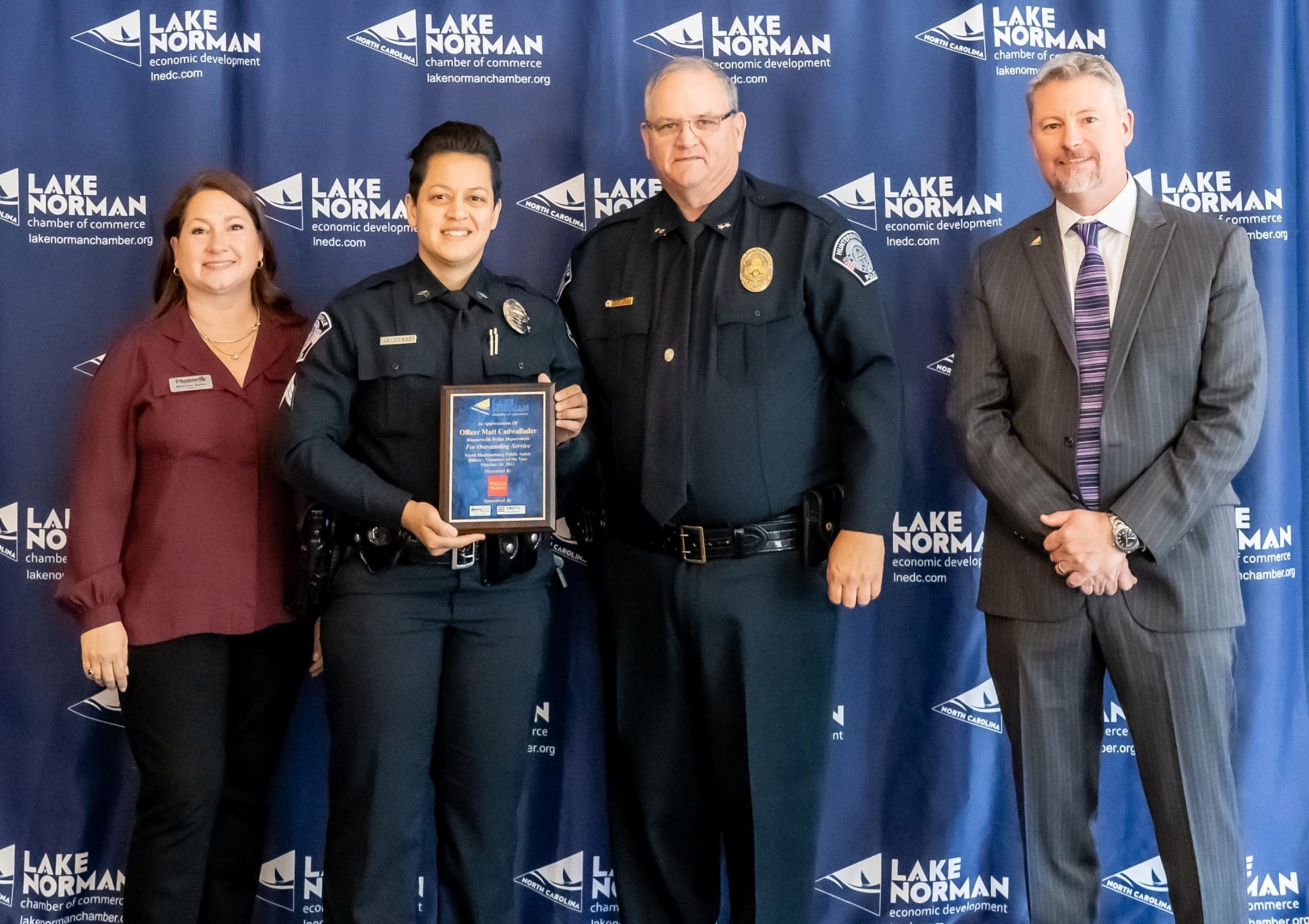 The Chief writes… The Huntersville Police would like to nominate Officer Matt Cadwallader for the Lake Norman Chamber's Public Safety Officer of the Year for 2022 for enhancing public safety by making 45 DWI arrests over the last year. Officer Cadwallader works the permanent night shift, allowing him to make a difference when traditionally, more people are likely to drive after consuming alcohol. Several of these arrestees had Blood Alcohol results showing they were several times over the legal limit for impairment.
Making a Driving While Impaired arrest is a significant commitment, from the evidence gathering both on scene and later at the PD with Intoxilizer processing. The evidence gathering is very technical work with many legal loopholes and areas that officers must be cognizant of the rights of the arrestees. Each arrest takes several hours, and then later, a commitment in court.
Officer Cadwallader has worked late many times because he doesn't shy away from making a DWI arrest late in the shift. He has also improved his roadside testing techniques and report writing to be an effective DWI enforcement officer to get convictions for his arrests.
Having said this about his extraordinary work with DWI arrests, Officer Cadwallader is also a great community police officer. Officer Cadwallader is always willing to do what the team needs to be successful. Officer Cadwallader, and his shift partners, have been known to hide in the bushes at area hotels, hoping to catch suspects in the act of breaking into cars. When it comes to "Community Policing," Officer Cadwallader takes crime in Huntersville as his personal responsibility. He genuinely wants to make a difference in the community. Officer Cadwallader is just one of many examples of how Huntersville Officers focus on the community we serve.
We want to acknowledge Officer Cadwallader's dedication to making Huntersville safer by getting 45 impaired drivers off the roads this year.
Unfortunately, Officer Cadwallader cannot be in attendance and accepting on his behalf is his supervising officer: Sgt. Maizul Cobeo.