Microban International LTD Recognized by Lake Norman Chamber of Commerce
Microban International LTD Recognized by Lake Norman Chamber of Commerce
Huntersville Corporation cited by Diversity Equity & Inclusion Practices
Microban International LTD was recognized by the Lake Norman Chamber of Commerce for promoting Diversity Equity and Inclusion in its corporate culture. The Huntersville Corporation was named the 2022 Corporate Diversity Champion at the Annual Diversity Luncheon held at Northstone Country Club on Thursday, September 15th. The event, presented by MSC Industrial Supply in Davidson, was attended by more than 80 community and business leaders.
The award was presented by 2022 Chamber Board Chair David Keith and Diversity Chair Dan Houston. Accepting on behalf of Microban was Kim Brewer, Human Resource Business Partner. In a statement Brewer shared,
"Microban believes that our people are our greatest strength and encouraging a diverse employee base makes for a better culture. As an Employee-Owned Company, every employee around the world regardless of their position within the company, shares in the value of our company and is committed to embracing and supporting our policies regarding diversity, equity, and inclusion. This is how we differentiate our business and will continue to pursue a best-in-class company culture locally and globally."
The luncheon was emceed by Bill Russell, President & CEO of the Lake Norman Chamber. Russell added, "Microban works with over 800 partners around the world across a massively diverse set of materials, production processes, products, and routes to market, so we must employ a breadth of talent to support the varied application requirements of our customers. They thrive because of the diversity in education across their teams, with representation at all levels of degreed and trade-related expertise represented."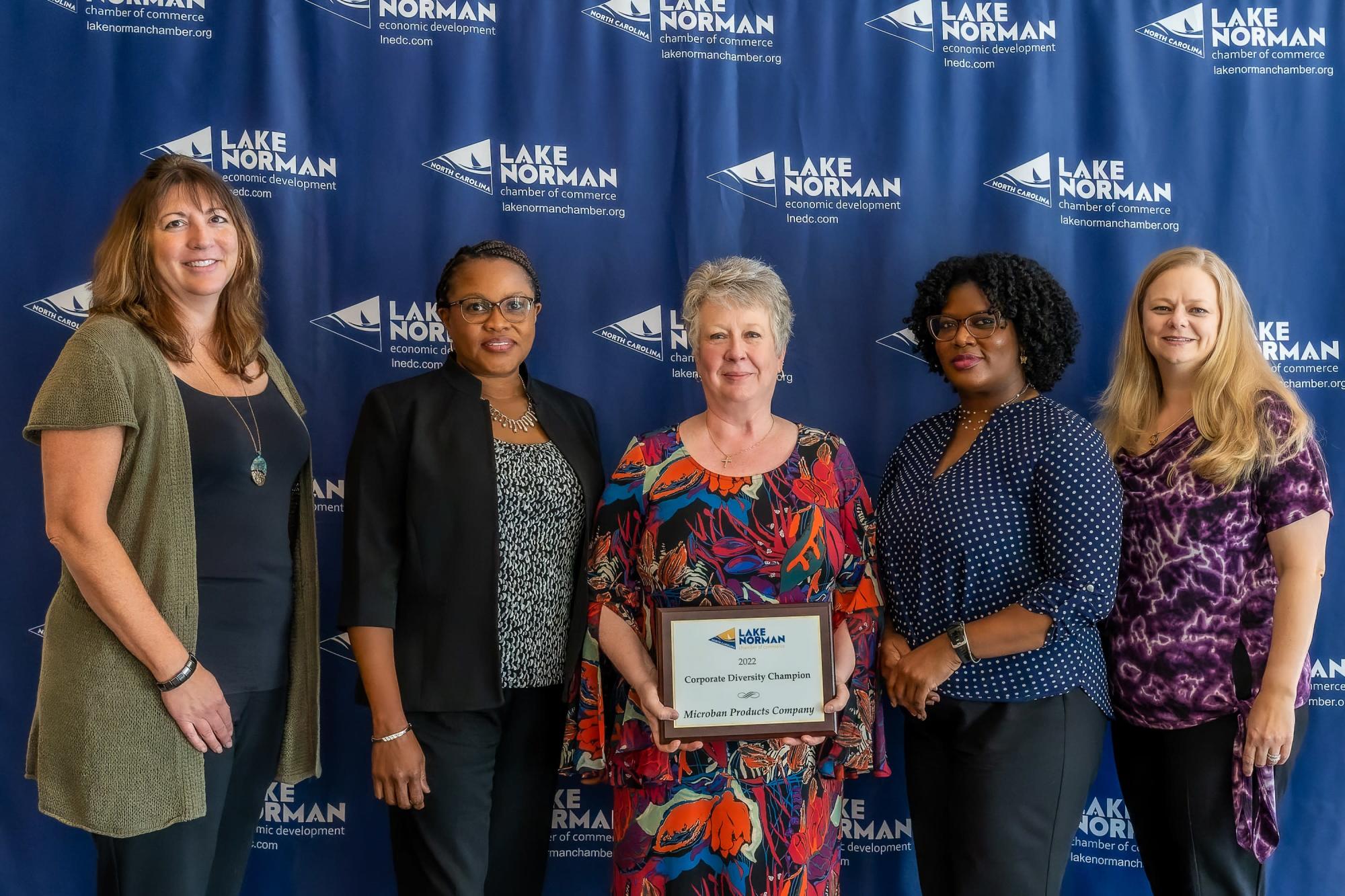 Staff of Microban International LTD - Huntersville at the Lake Norman Chamber of Commerce Annual Diversity Luncheon held at Northstone Country Club Thursday, September 15, 2022.
From left to right, are Rebecca Campbell (Director, Global Quality Assurance & Healthcare Compliance), Dr. Glenner Richards (Director, Microbiology & Analytical Chemistry), Kim Brewer (Human Resources Business Partner), Amanda July (Customer Service Supervisor), and Angie Johnson (Senior Technical Manager, North America).
Photo courtesy of John McHugh / Ocaid Photography.