Local Police Officers Recognized as Officers of the Year
Local Police Officers Recognized as Officers of the Year
Lake Norman Chamber of Commerce Thanks our Public Safety Officers
Community and Business Leaders gathered at Northstone Country Club in Huntersville to recognize our Public Safety Officers of the Year - Police and Fire in the Towns of Cornelius, Davidson, and Huntersville. The Luncheon was Presented by Carolinas Telco Federal Credit Union. Supporting sponsors included Firstnet Built with AT&T, Lake Norman Media Group, Business Today / Cornelius Today and WSIC.
Below is a Detailed Account of our Outstanding Police Officers. Fire Fighters will be detailed in a subsequent article.
Cornelius Police Department - Officer Matthew Piwowar
Officer Matthew Piwowar has demonstrated that he is one of the most vigilant, hard-working, and proactive patrol officers in the department. So far this year, he has made twelve Driving While Impaired (DWI) arrests. This is substantial considering that he doesn't entirely focus on DWI enforcement as a patrol officer, and is second in the department behind the leading Traffic Officer David Ibarra for DWI arrest.
He has recovered two stolen vehicles while on routine patrol, one of those being stolen during that very shift and used by the suspects involved in other property crimes. His persistence in crime prevention is also believed to be why Modern Nissan did not lose more vehicles than it did on the night of the break-in. No matter the severity of the crime, he follows through with the investigation seeking justice.
This year he obtained his Bachelor's Degree in Criminology from The University of North Carolina at Wilmington. Seeing the challenge of engaging with the Hispanic community, he focused on learning Spanish and recently was tested as intermediate high by a UNC Professor.
He has been very helpful to his squadmates. Often while not directly involved in another officer's call for service, he's looking into information such as criminal history, phone numbers, locations, status, wants, etc. He fills in basic information on other officers' reports when arrests are made to decrease the burden. His actions promote an environment of teamwork and motivation. It's exciting to see Officer Matthew Piwowar develop as a Patrol Officer and with all of his achievements, he remains humble.
Picture: 2024 Incoming Board Chair Jeff Tarte with Cornelius Mayor Woody Washam, Officer Matthew Piwowar and Major Jennifer Thompson Photo courtesy of Doug Stevens, SnapHappyPhotos.com
Davidson Police Department - Corporal Nicholas Bockler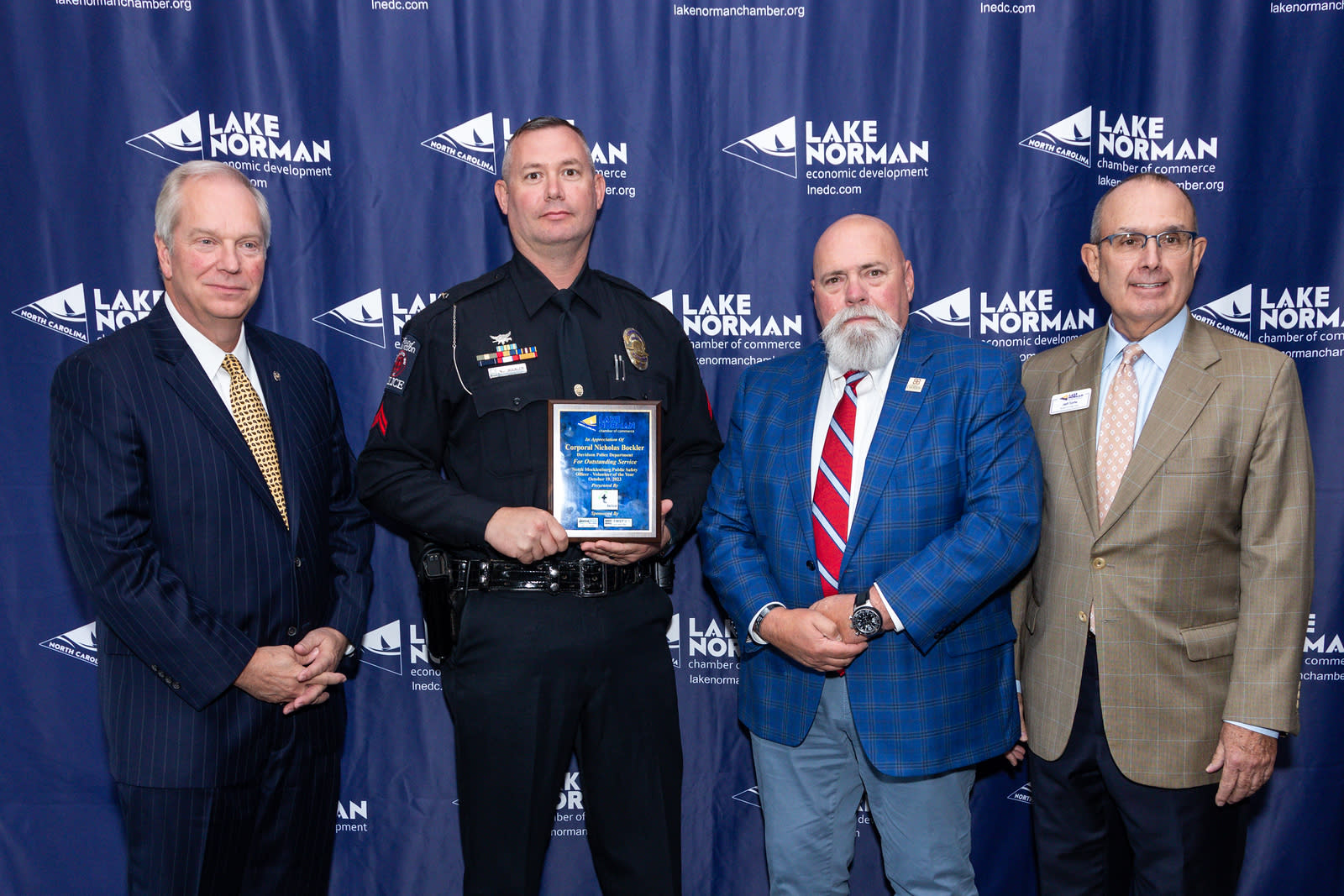 Corporal Bockler distinguished himself through his selfless dedication to the residents of the Town of Davidson over the past 10 years. Cpl. Bockler assumes a variety of roles as an officer with the Davidson Police Department but one of his more significant and impactful roles is his service as the lead firearms instructor providing subject matter expertise and oversight for the Department's special protective equipment. In 2023, Cpl. Bockler guided the Department through a transition from our current service pistol to a new service pistol providing enhanced capability. Cpl. Bockler was able to negotiate a complete exchange of duty weapons for all personnel at no cost to the taxpayer.
Cpl. Bockler serves as a subject matter expert to senior department leadership on firearms matters, drawing on his prior military service and his SWAT training. These determinations improve officer safety, provide a higher degree of accuracy in the event deadly force is required, and serve as a force multiplier as officers have more expansive tools to serve the community. Davidson police officers are using state of the art weapons systems which will carry them into the future.
On Sunday morning September 3, 2023, Cpl. Bockler was on patrol in Davidson monitoring the police radio and heard a call from a Huntersville officer who had just terminated a high-speed pursuit with a stolen vehicle traveling north on I-77. Cpl. Bockler took the direction of travel to intercept the suspect vehicle. While on Griffith Street he observed the fleeing vehicle traveling at a high rate of speed west towards Davidson College.
Cpl. Bockler made a U-turn and initiated a pursuit but as he turned on Main Street in Davidson, he determined the fleeing vehicle's speed was too fast to safely pursue and discontinued the pursuit. Shortly after this incident a concerned citizen dialed 911 and described a man exiting a vehicle armed with a handgun. Already nearby, Cpl. Bockler responded and set up a perimeter and requested assistance from surrounding jurisdictions. After an initial search of the area the vehicle's operator was not located. Approximately two hours after the initial police action Cpl. Bockler responded with a Huntersville Police officer in the area where the pursuit ended and located the suspect who had been hiding close by. A weapon was recovered at the scene. The suspect who was arrested was linked to multiple crimes committed in the North Mecklenburg County earlier in the day including a shooting and more than thirty car break ins.
The suspect is a habitual criminal with more than thirty-eight previous criminal arrests. Cpl. Bockler actions on this morning led to the apprehension of dangerous violent offender, who was armed, and previously shot at law enforcement. Cpl. Bockler's action in locating and arresting this individual made the residents of the Town of Davidson safer. Cpl. Bockler is recognized for his continuous, dedicated service to the community.
In addition to the incident above, Cpl. Bockler serves as a member of the North Mecklenburg SWAT Team and based on his demonstrated leadership, sound judgement, and extraordinary performance he was elevated to Assistant Team Leader. Service on the SWAT team requires a personal commitment beyond traditional work obligations and Cpl. Bockler's invests his time in meeting those additional requirements.
Cpl. Bockler is a well-rounded officer reflecting the best qualities of law enforcement who genuinely cares about the people he serves and ensuring they live in a safe and secure community.
Picture: Davidson Police Chief Kim Davidson, Corporal Nicholas Bockler, Mayor Rusty Knox, and 2024 Incoming Board Chair Jeff Tarte. Photo courtesy of Doug Stevens, SnapHappyPhotos.com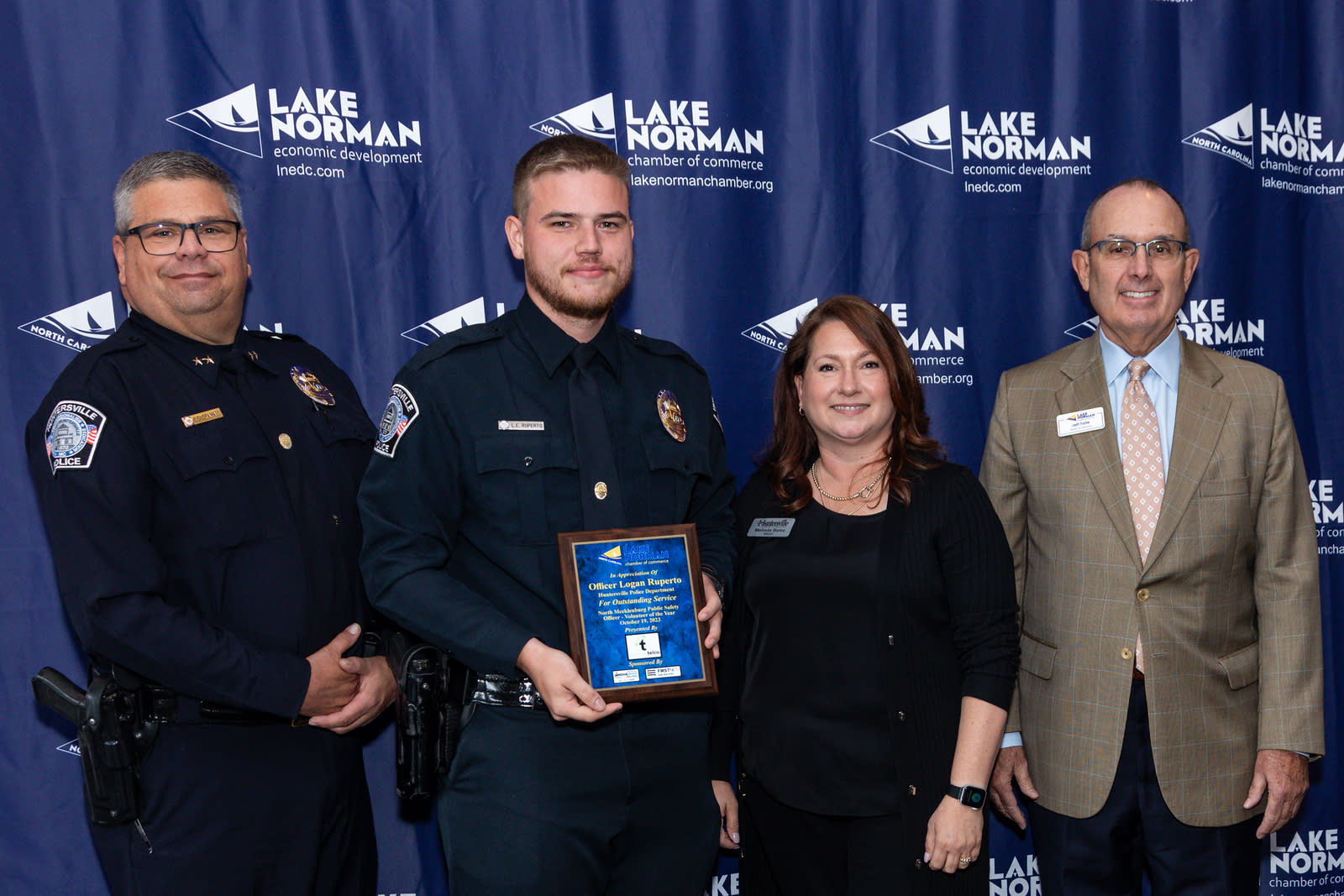 Huntersville Police Department - Officer Logan Ruperto
Officer Logan Ruperto began his career with the Huntersville Police Department as a police recruit in 2019. He was sworn in, officially, as a police officer in June of that year. During his first three (3) years as a police officer, Officer Ruperto has a proven track record for taking initiative and going above and beyond the scope of his daily responsibilities as a patrol officer. One example of his initiative took place in August of this year.
While proactively patrolling local auto dealerships, Officer Ruperto noticed a Honda with a fictitious license plate, which criminals often use to further their criminal activity. Officer Ruperto initiated a traffic stop that ultimately resulted in the seizure of two stolen firearms, multiple stolen car keys, burglary tools, masks, illegal narcotics, and electronic equipment used to reprogram car keys to gain access to vehicles.
While the seizure of these items and the arrest would have been sufficient for most, Officer Ruperto went the additional mile and worked with state and federal law enforcement agencies with details of this case. During Officer Ruperto's investigation, he executed search warrants on the suspect's three (3) cell phones, which provided valuable insight into the criminal enterprise at work. This information proved pivotal for the FBI in a complex auto theft ring investigation. The FBI used this information in their successful investigation known as Operation Scarlet.
This is the second time this year Officer Ruperto has found cars operated in our area with fictitious information displayed that netted arrests and seizure of advanced electronic equipment used to reprogram car keys to steal vehicles. He has recovered stolen vehicles and made several significant arrests associated with larger organized crime rings.
His exceptional service to the Town of Huntersville and the selflessness he displays when taking on extra responsibilities serves as an example for others to follow. He cares for the community he serves, and his nomination for this award is not merely a recognition of his actions but also an affirmation of his character and dedication to his profession as a police officer.
Picture:
Picture: Huntersville Police Chief Barry Graham, Officer Logan Ruperto, Mayor Melinda Bales, and 2024 Incoming Board Chair Jeff Tarte. Photo courtesy of Doug Stevens, SnapHappyPhotos.com