Lake Norman Chamber of Commerce Recognizes Local Firefighters
Lake Norman Chamber of Commerce Recognizes Local Firefighters
2023 Public Safety Luncheon held at Northstone Country Club
Community and Business Leaders gathered at Northstone Country Club in Huntersville to recognize our Public Safety Officers of the Year - Police and Fire in the Towns of Cornelius, Davidson, and Huntersville. The Luncheon was Presented by Carolinas Telco Federal Credit Union. Supporting sponsors included Firstnet Built with AT&T, Lake Norman Media Group, Business Today / Cornelius Today and WSIC.
Below is a Detailed Account of our Outstanding Firefighters.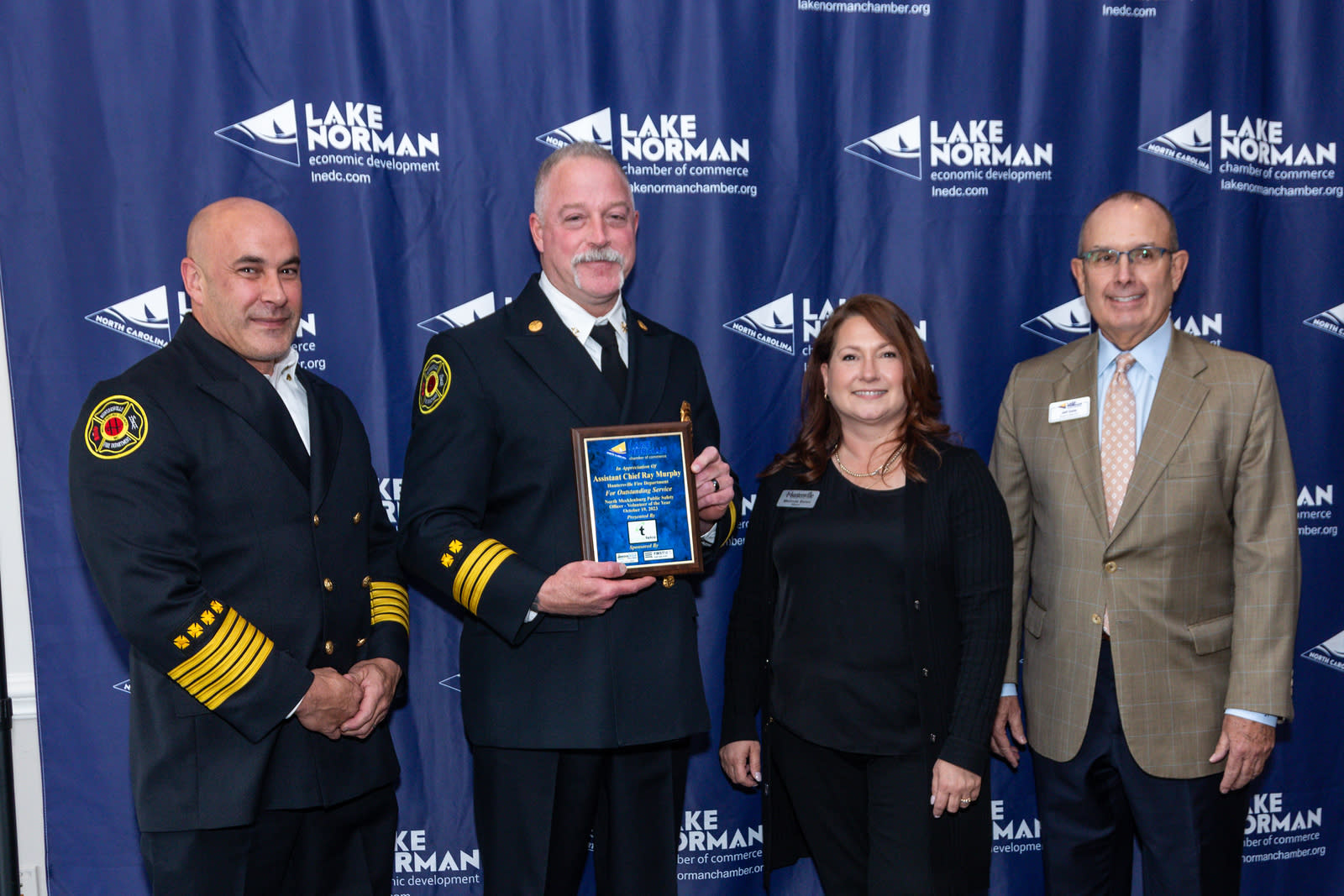 Assistant Fire Chief Ray Murphy - Huntersville Fire Department
In the year 2000 as a young firefighter Ray Murphy took the pledge to become a career firefighter in Beaufort South Carolina to promise to be concerned for others and to have the willingness to help all those in need when called upon. His experience led him to a busier department in 2010 when he was accepted to the Charlotte Fire Department where he serves as an engineer on one of the busiest fire stations in Mecklenburg County. On 4/1/2011 after moving to Huntersville Ray walked through the doors of the Huntersville Volunteer Fire Department with a passion to serve his community. Since 2011 Ray rose through the ranks serving as a training Captain for the department then in 2017 was promoted to Assistant Chief. Assistant Chief Murphy has taken on the task of the monthly training for the department.
He has spent numerous hours training young firefighters advancing their skills. Ray has also done joint training with the towns of Cornelius/Davidson as well as crew from the city of Charlotte. Chief murphy has logged over 2500 hours a year since his start in the department in responding to the needs of our citizen and the needs of the department.
Picture: Huntersville Chief Jim Dotoli with Assistant Chief Ray Murphy, Huntersville Mayor Melinda Bales, and 2024 Lake Norman Chamber Board Chair Jeff Tarte. Photo by Doug Stevens, Snaphappyphotos.com
Deputy Chief Kevin Goveia - Davidson Fire Department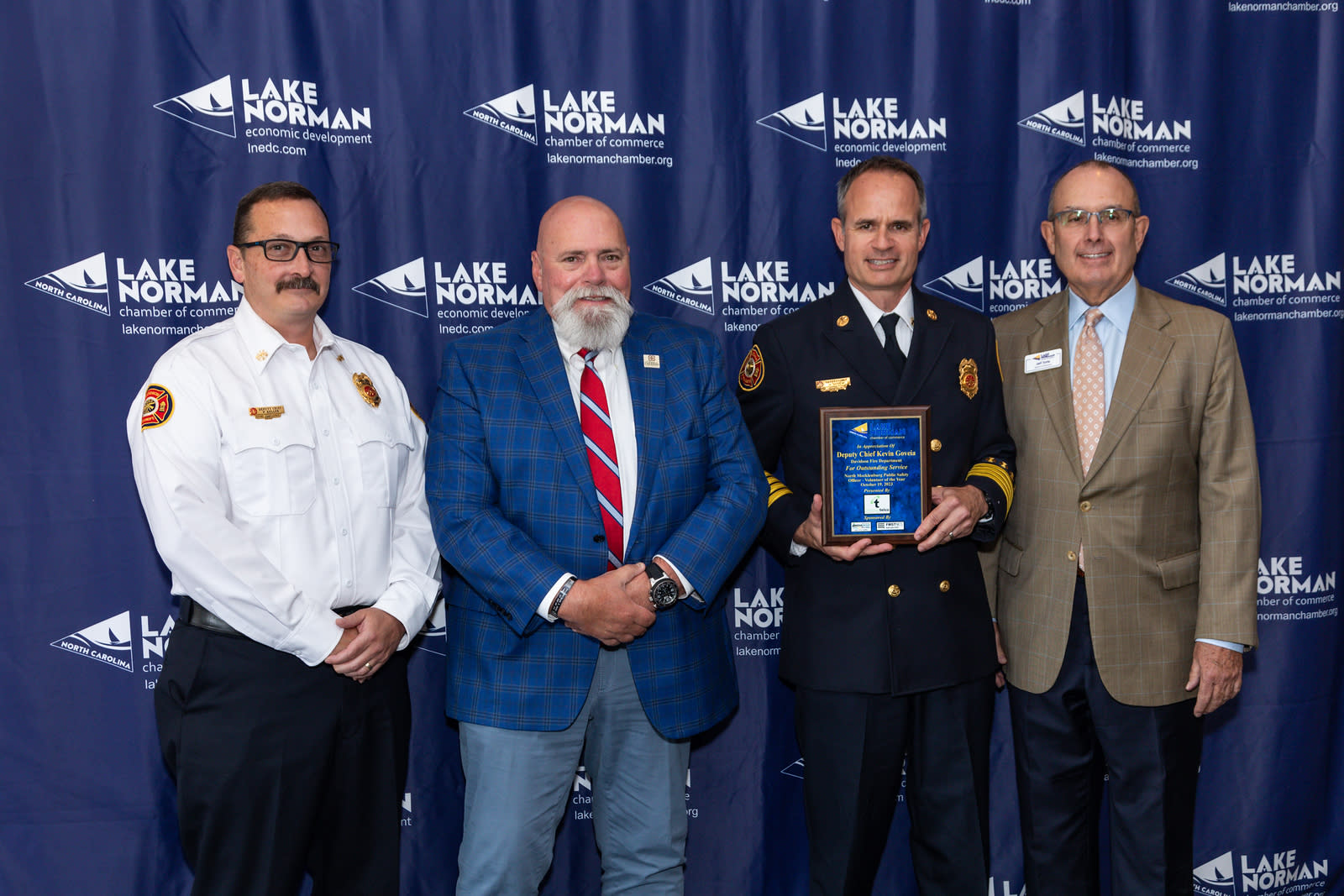 Davidson Chief Montieth writes, "On behalf of the Davidson Fire Department, I would like to officially recognize Deputy Chief Kevin Goveia as the department's nomination for the 2023 Lake Norman Chamber of Commerce Public Safety Officer of the Year Award.
Chief Goveia has been a dedicated member of the Davidson Fire Department since 2019 after retiring with a (25) year career as a Battalion Chief with the Gulfport Mississippi Fire Department. In June 2021, Kevin was promoted to the rank of Deputy Chief. His official role is Deputy Chief of Administration.
In this role he directly oversees the department's Training Division along with working directly with the Town of Davidson's Finance Director, Human Resources Director, and Communications Director. Over the last two years he has been tasked with helping to facilitate the department's annual operating budget as well as redefining the Training Division for consistency and efficiency. He has also been instrumental in helping to streamline the onboarding process for new hires within the fire department. Kevin is also tasked as the department's Accreditation Manager.
Beginning in October 2021, the Davidson Fire Department began aggressively planning for future department growth. From October 2021 through December 2022, the Davidson Fire Department published our Community Risk Assessment / Standards of Cover and the (5) year comprehensive Strategic Plan. Chief Goveia was instrumental in the development and facilitation of these plans.
This past year he has been focused on the implementation of the new Records Management System along with the department's policies and procedure re-write. Chief Goveia brings a vast skill set to the Davidson Fire Department and his knowledge and experience have been instrumental in helping to grow the Davidson Fire Department in a progressive and efficient manner."
Picture: Davidson Chief Montieth, Deputy Chief Kevin Goveia, Mayor Rusty Knox, and 2024 Lake Norman Chamber Board Chair Jeff Tarte. Photo by Doug Stevens, Snaphappyphotos.com
Firefighter Sam Richards - Cornelius Fire Rescue
Sam Rivers came to the Cornelius Fire Rescue in August 2016 as a Live-In firefighter as he attended Central Piedmont Community College, where he studied Fire Protection Technology. Lt. Rivers came to us as a young firefighter ready to learn the ways of Cornelius and sharpen his skills as a firefighter. He started as a very quiet, reserved young man and over the course of his time with Cornelius Fire and Rescue that has changed immensely!
Lt. Rivers has served on the Training Staff for the past five years and received a promotion to Lieutenant 2021. He oversees all new members and works countless hours bringing these members into the department. He assists them with scheduling their classes for certifications, providing them with gear and uniforms and begins the needed training to help them become productive members of our department. On top of these responsibilities, he serves as a company officer each day he works supervising a crew of four firefighters ensuring they are ready for anything they may face throughout the day. Lt. Rivers was also pivotal in the development of the Active Violence Response training that was delivered to departments on the north end in conjunction with our brothers and sisters at the Police Department.
Lt. Rivers passion, desire, commitment, integrity and hard work makes him well deserving of this honor. Lt. Rivers, thank you for your service to the members of Cornelius Fire Rescue and the citizens of Cornelius.
Picture: Cornelius Chief Guerry Barbee, Mayor Woody Washam, Firefighter Lt Sam Richards, and 2024 Lake Norman Chamber Board Chair Jeff Tarte. Photo by Doug Stevens, Snaphappyphotos.com