Lake Norman Chamber of Commerce Honors the 2022 Lake Norman Small Businesses of the Year
Lake Norman Chamber of Commerce Honors the 2022 Lake Norman Small Businesses of the Year
Awards Presented During 2022 Small Business Week
Business and Community leaders gathered at the Lake Norman Chamber of Commerce to celebrate Small Business Week and to recognize local small businesses who have excelled in their market. On hand to take part in each presentation were elected officials from Huntersville, Davidson, Cornelius, and Mooresville as well as chamber members and staff.
2022 Chamber Board Chair David Keith stated that the Chamber was honoring a Small Business in each local community served by the 800-member chamber of commerce. Recognized by the Chamber was Ansel Brown – Juan Loco (Cornelius), Jason Dibble - Boomerang Water (Davidson), Steve Genenbacher – Christian Brothers Automotive (Huntersville), and Steve and Lisa Bograd – Shred South (Iredell County).
Keith cited the accomplishments of each business including the strong involvement each has in the region giving back to their community that has allowed their business to prosper. The business owners were each provided an opportunity to share their thoughts on the recognition followed by comments from their respective mayors.
Chamber President & CEO Bill Russell reminded everyone that a more detailed write up on the businesses will be available through the Chamber's website at LakeNormanChamber.org. Small Business Week was Presented by Novant Health – Huntersville Medical Center and Supporting Sponsor – Sam's Club of Mooresville.
The reception was part of the Lake Norman Chamber's weeklong salute to Small Business (May 2 through May 8) in conjunction with the Towns of Davidson, Huntersville, Cornelius, Mooresville and the Small Business Administration.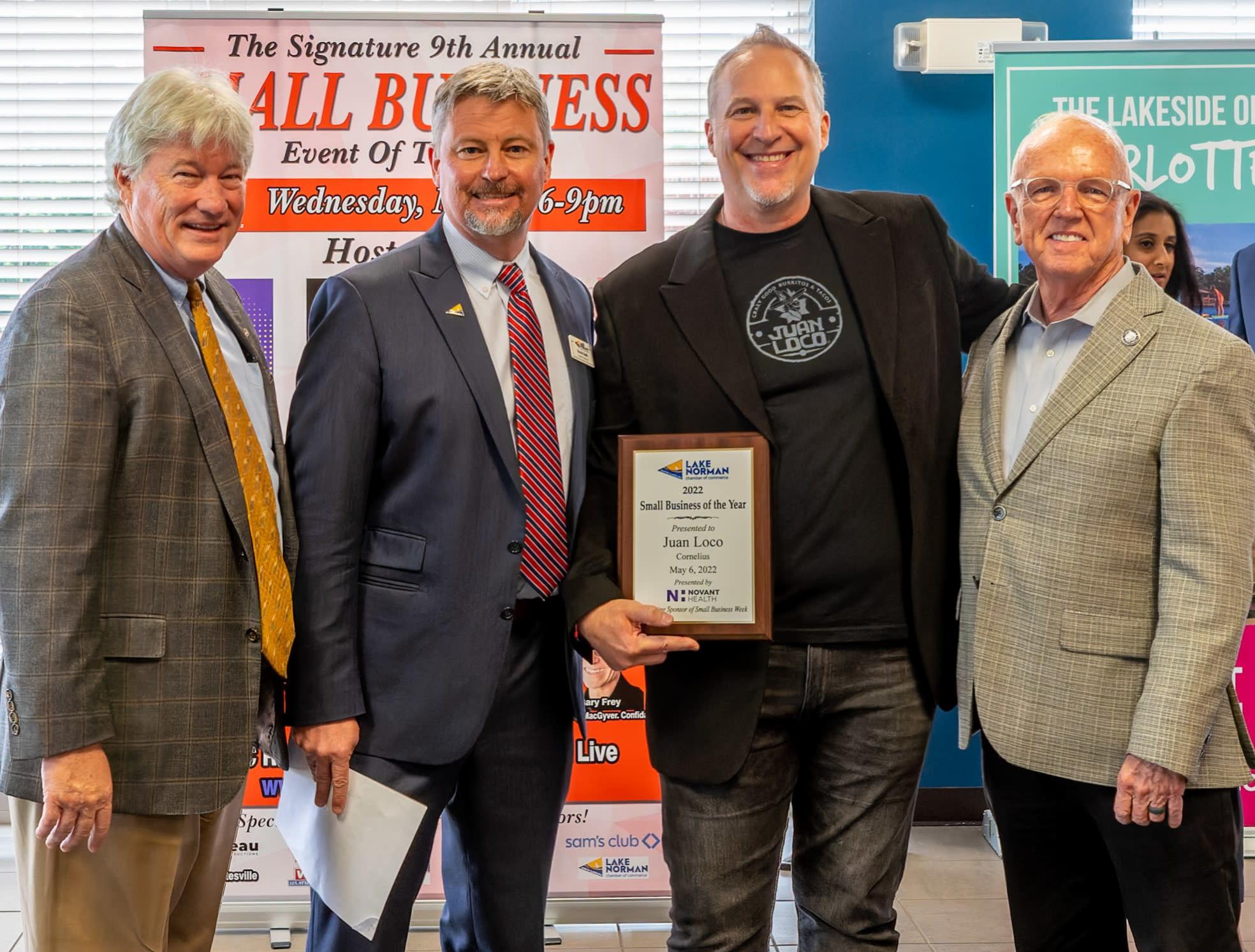 Pic 1 Ansel Brown, owner of Juan Loco in Cornelius, receives the Small Business of the Year Award from Lake Norman Chamber 2022 Board Chair David Keith, President Bill Russell, and Mayor Woody Washam. Photo by John McHugh, Ocaid Photography.
Pic 2 Jason Dibble of Boomerang Water receives the Small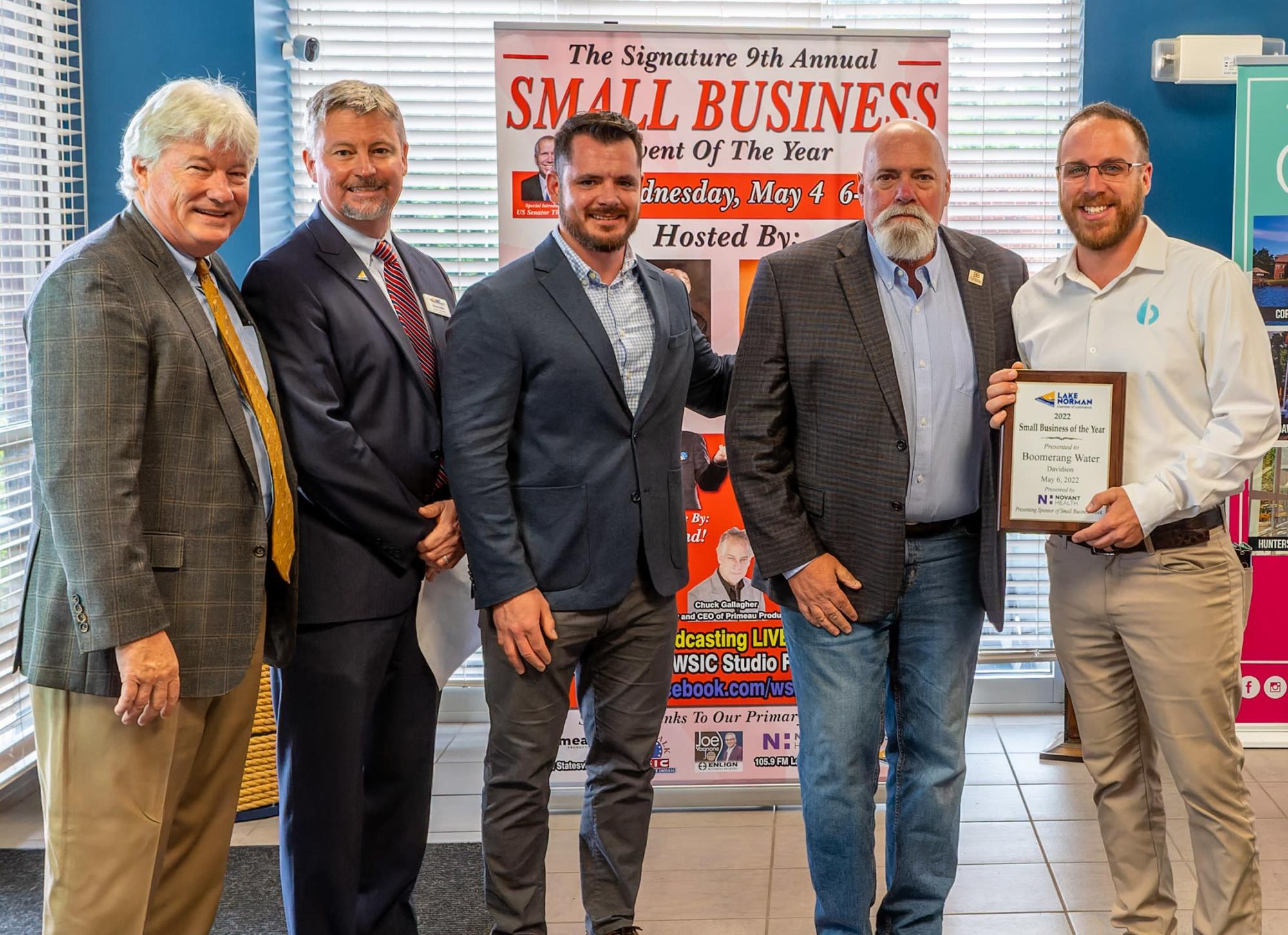 Business of the Year Award from Lake Norman 2022 Chamber Board Chair David Keith and Bill Russell. Also pictured is Davidson Mayor Rusty Knox and former Lake Norman Chamber Board Member Mike Murphy. Photo by John McHugh, Ocaid Photography.
Pic 3 Steve Genenbacher, owner of Christian Brothers Automotive receives the 2022 Huntersville Small business of the Year Award from Lake Norman Chamber Board Chair David Keith and President Bill Russell. Also pictured is Huntersville Mayor Melinda Bales. Photo by John McHugh, Ocaid Photography
Pic 4 Steve and Lisa Bograd, owners of Shred South, receive the Small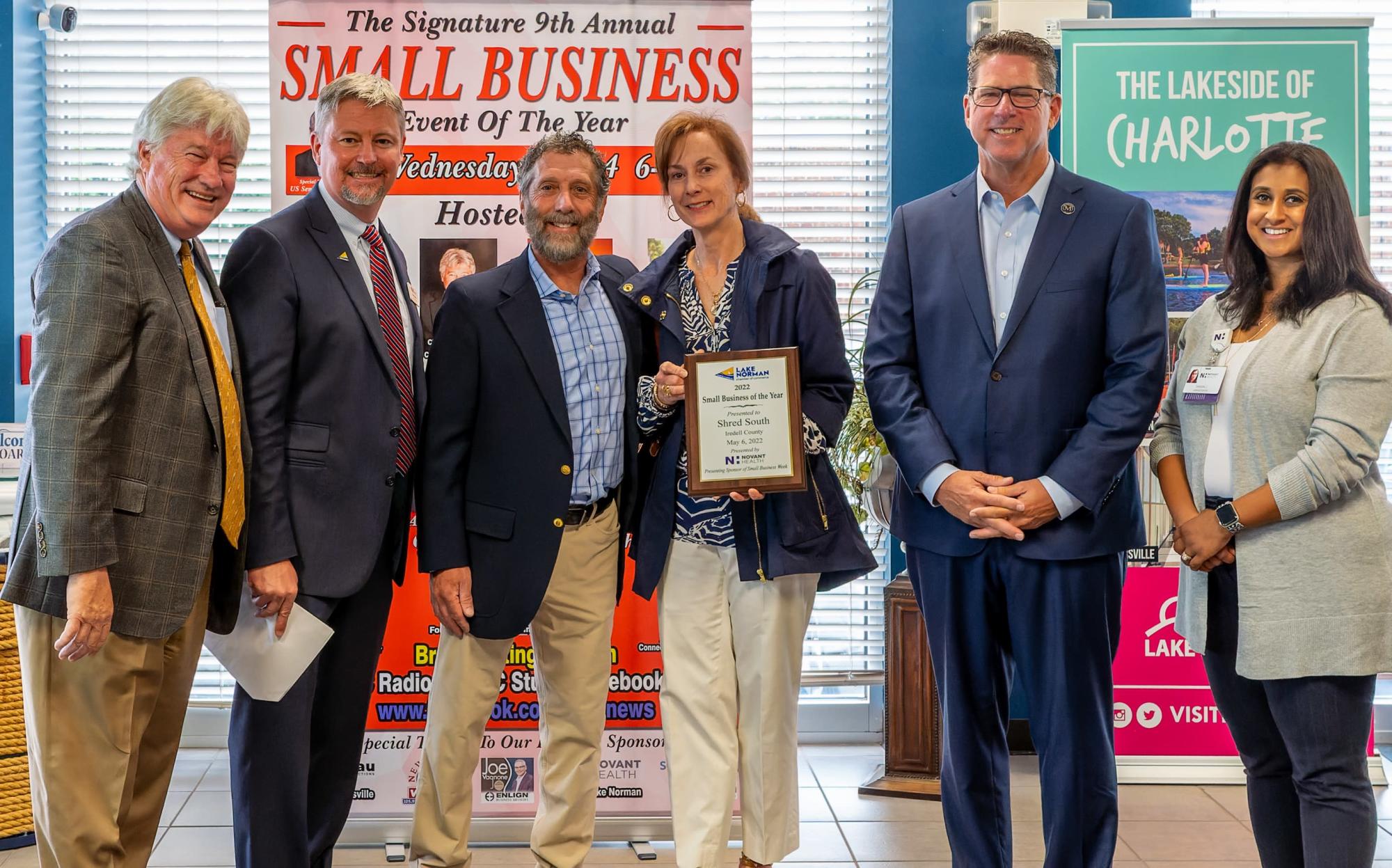 Business of the Year award from the Lake Norman Chamber. Pictured is Mooresville Mayor Miles Adkins, 2022 Chamber Board Chair David Keith and President Bill Russell. Also pictured is Dheepa Johnston of Novant Health Huntersville Medical Center, the Presenting Sponsor of Small Business Week.. Photo by John McHugh, Ocaid Photography