Lake Norman Chamber of Commerce Honors Kevin Mahl of Champion Tire and Wheel with 2021 Business Person of the Year
Lake Norman Chamber of Commerce Honors Kevin Mahl of Champion Tire and Wheel with 2021 Business Person of the Year
Robert T Cashion Business Person of the Year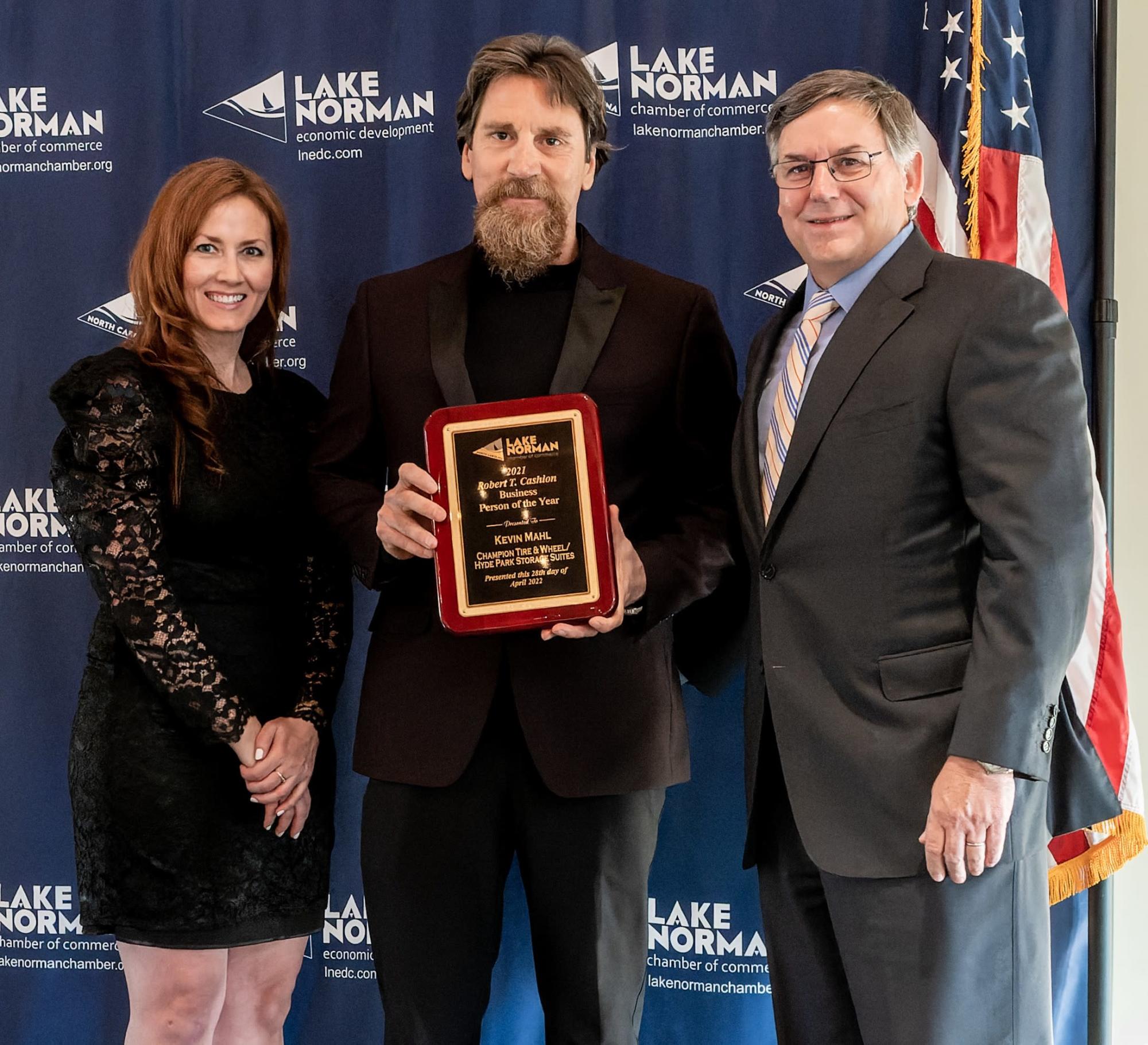 Kevin Mahl, President & CEO of Champion Tire and Wheel and Hyde Park Storage Suites, was named the Robert T. Cashion Business Person of the Year at the Lake Norman Chamber of Commerce Annual Meeting on April 28th held at The Venues at Langtree in Mooresville.
Robert Cashion's son Bobby Cashion, assisted 2021 Chamber Board Erica Erlenbach, who presented Mahl with the award. Mahl told the 240 business and community leaders in attendance, "I am humbled and honored that my name will be forever enshrined next to the previous recipients of the award. They are the business leaders and pioneers that I look up to and have shaped the Lake Norman region into the special place that it is today." Mahl added, "Although my name will be placed on the award, it wouldn't be possible without the legions of folks that have helped along the way. Most of which was my wife Shelley, who is the CFO of all our enterprises. Without her none of this would have been possible."
Mahl also touched on his new venture, "First Turn Innovations will provide the resources to nurture new ideas with the hope of inspiring the next generation of entrepreneurs to propel this region forward into the future"

Below is the full context or 2021 Board Chair Erika Erlenbach's remarks in presenting the award:
The Robert T. Cashion Business Person of the Year is the most coveted award of our Chamber. To present this year's Business Person of the Year, I would like to ask the Bobby Cashion to join me up front.
The history of the service that Cornelius based Champion Tire and Wheel provides started 25 years ago when racing Hall of Fame inductee Robert Yates convinced a trucking firm to haul his spent wheels back to Charlotte so he did not have to put them back in his showpiece race hauler. He believed it to be a major source of wear and tear on his hauler, and that it was worth paying someone to haul them.
All Yates had to do was convince some other teams that it was a good idea. He did —and that was the onset of what is known as the "wheel service."
"When we first set out to do this we were one of six original companies to provide the service," Kevin Mahl said.
"We soon learned that the teams were looking for more than just transportation….they were looking for someone to manage the performance - contributing aspects of the wheels that included the transportation. We had the engineering and technology experience to manage the performance piece, all we needed was the trucks & the muscle to get the tires and wheels to the race track and back.
Our formula of science, engineering, and hard work was a success and we became one of one. Now every new Goodyear tire used in the NASCAR races originates from Champion's facility, is transported to the race, then is brought back where they are dismounted, cleaned, restocked, re-indexed and then reshipped to the next track."
Today, Champion has 35 tractor trailers to provide the service, traveling almost 2 million miles each year employing more than 65 full time employees and quite a few part timers.
It all started back in May 2001, when Kevin and his partner, created a new concept called Hyde Park Storage Suites– a vision to provide upscale storage complex for RV's, cars, boats. Hyde Park has now grown to 450,000 sq ft with locations here in Cornelius, and Daytona Beach…with an investment of over $30 million.
This past September, Cornelius Today broke the story that Mahl was launching a business incubator in 5,000 sq ft of space on Treynorth Drive in Cornelius called First Turn Innovations. The vision of this organization is to provide an environment for aspiring entrepreneurs that have dream of their own to create, invent, and bring their ideas to life.
Kevin Mahl is an entrepreneur, a visionary, a catalyst for business growth – and he is our 2021 Robert T Cashion Business Person of the Year.