Lake Norman Chamber Announces the Lake's 2021 Small Businesses of the Year
Lake Norman Chamber Announces the Lake's 2021 Small Businesses of the Year
James Funeral Home, Lakeside Living, The Davidson Village Inn, The Welcome Committee Singled out as The Best of the Best in Business
Published Tuesday, June 1, 2021
Business and Community leaders gathered at the Lake Norman Chamber of Commerce to celebrate Small Business Week and recognize local small businesses who have excelled in their market. On hand to take part in each presentation were elected officials from Huntersville, Davidson, Cornelius, and Mooresville as well as chamber members and staff. Small Business Week was Presented by Novant Health - Huntersville Medical Center, Central Piedmont Community College (CPCC), and Lake side Living Magazine. Mike Riley, President of Huntersville Medical Center, was in hand to assist in the presentations.

In a departure from recognizing one overall recipient, 2022 Chamber Board Chair David Keith, stepped in for current Board Chair Erika Erlenbach who was not able to attend the event, and stated that this year the Chamber was honoring a Small Business in each local community served by the 850-member chamber of commerce. Recognized by the Chamber was Joanie Baker – owner of Lakeside Living Magazine (Cornelius), Mariano and Caroline Doble – owners of The Davidson Village Inn (Davidson), Sam James – owner of James Funeral Home (Huntersville), and Suzanne Meyer – The Welcome Committee (Mooresville).

Keith cited the accomplishments of each business including the strong involvement each has in the region giving back to their community that has allowed their business to prosper. The business owners were each provided an opportunity to share their thoughts on the recognition followed by comments from their respective mayors.

Chamber President & CEO Bill Russell reminded everyone that a more detailed write up on the businesses will be available through the Chamber's website at LakeNormanChamber.org.

The reception was part of the Lake Norman Chamber's weeklong salute to Small Business (May 24 through May 28 in conjunction with the Towns of Davidson, Huntersville, Cornelius, Mooresville and the Small Business Administration.

About Each Nomination:
J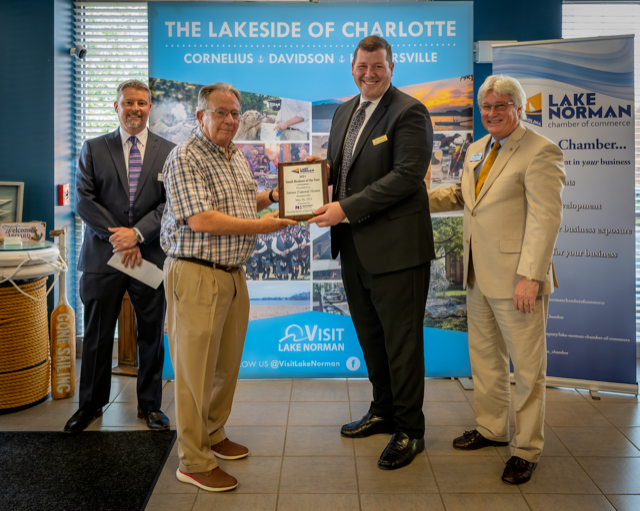 ames Funeral Home - Huntersville
James Funeral Home opened its doors over 10 years ago and not only serves Huntersville but the Lake Norman region. "WE cannot pick a time when we have a calling," stated James. James Funeral Home is always open to assist in a time of need. In October of 2010, the funeral home opened with a small staff. Since then, the business has grown to 12 employees. James has had the privilege of serving the community through the Lake Norman Rotary Club, a board member of the Lake Norman Chamber of Commerce, and as a past Board member for the Serenity House.
The success of the business can best be measured by the recent awards: NFDA Pursuit of Excellence Award - This award presented by the National Funeral Directors Association annually recognizes Funeral Homes that have demonstrated a commitment to raising the bar on service excellence by adhering to strict ethical and professional standards and by providing outstanding service to families and communities. It is presented to less than 1% of the funeral homes in the United States.
To earn this designation, a funeral home must demonstrate proficiency in key areas of service including compliance with state and federal regulations; providing ongoing education and professional development for staff; offering outstanding service to bereaved families; maintaining an active level of involvement in the community; participating and actively serving in the funeral service profession; promoting funeral home services through a wide variety of marketing, advertising, and public relations programs. James Funeral Home has received this award three times.
James Funeral Home is also a recipient of The Mecklenburg Times "Icons and Phenoms" Award.
Picture: Sam James, owner of James Funeral Home, receives the 2021 Huntersville Small Business of the Year Award from 2022 Lake Norman Chamber Board Chair David Keith and President Bill Russell. Also pictured is Huntersville Town Commissioner Dan Boone. Photo by John McHugh, Ocaid Photography
Lakeside Living Magazine (Cornelius & Mooresville) - Cornelius
Joanie Baker has been in business for more than five years with Cornelius Lakeside Living Magazine, and for the past two years with Mooresville Lakeside Living Magazine. While she only employs two content coordinators/editors,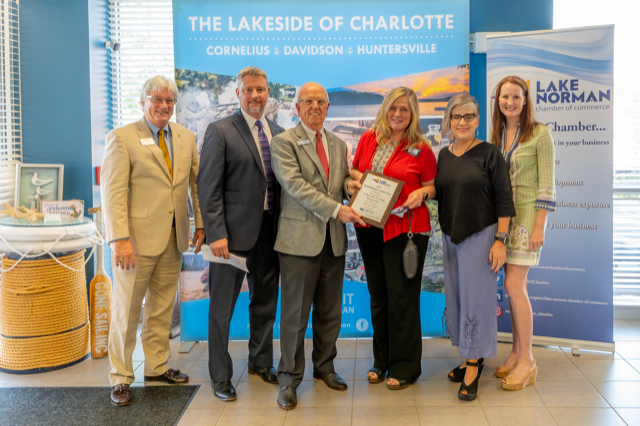 she essentially doubled her workforce by adding the second magazine's content coordinator/editor two years ago. In addition, the magazines utilize the services of local freelance writers, local photographers and other local contributors on a regular basis.
Joanie Baker is very involved in business networking, and is an active member of the Lake Norman BNI group, the Lake Norman and the Mooresville Chamber. In addition, she encourages her employees to be involved in the community as well. For example, as the content coordinator/editor of Mooresville Lakeside Living Magazine, I am encouraged by Joanie to participate in many chamber and other local business networking events. In addition, she has supported many small or start-up businesses in the area by offering discounted advertising, free public relations articles and more. Also, each month in each magazine, a local non-profit organization is given the opportunity to showcase their organization in a full page article, at no charge.
Lakeside Living Magazines are mailed monthly to more than 10,000 homes in Cornelius and Mooresville, and readers have consistently provided outstanding feedback on the articles, which are all written by us two content coordinators, so it's local content by neighbors. In addition, we work with several outstanding local professional photographers for each magazine (Deborah Young, for example). Overall, both Joanie Baker, her team and the magazines are well known and well respected throughout the Lake Norman area.
Many of the original advertisers of both publications continue to advertise monthly in the magazines. Many advertisers, like Lake Norman Chrysler Jeep Dodge Ram, Christian Brothers Automotive in Mooresville and Lake Norman Butchery have provided excellent testimonials about how their businesses have grown specifically due to this advertising. As the sole salesperson for advertising for both publications, Joanie is constantly visiting existing advertisers to keep them up to date on the publications, so she maintains a high profile with customers.
In addition, positioning many of the local business advertisers as expert contributors has enabled them to establish and grow their credibility in the community. Expert contributors write factual, informative articles about their areas of expertise, and typically each issue features three to four expert contributor articles. Also, the magazines regularly invite mayors, fire/rescue chiefs, police chiefs, school principals and other local leaders to write articles that appear at no charge to them in the magazines; this helps them effectively connect with the constituents and residents they serve.
Also, the very popular pets section and the community calendar events in each issue features content contributed by neighbors, local non-profit organizations, area schools and local businesses, which all help create a strong sense of community.
Picture: Joanie Baker, owner of Lakeside Living in Cornelius, receives the Small Business of the Year Award from Lake Norman Chamber 2022 Board Chair David Keith, President Bill Russell, and Mayor Woody Washam. Also pictured is Caroline Campbell - content coordinator for Cornelius and Karen Dortschy content coordinator for Mooresville. Photo by John McHugh, Ocaid Photography.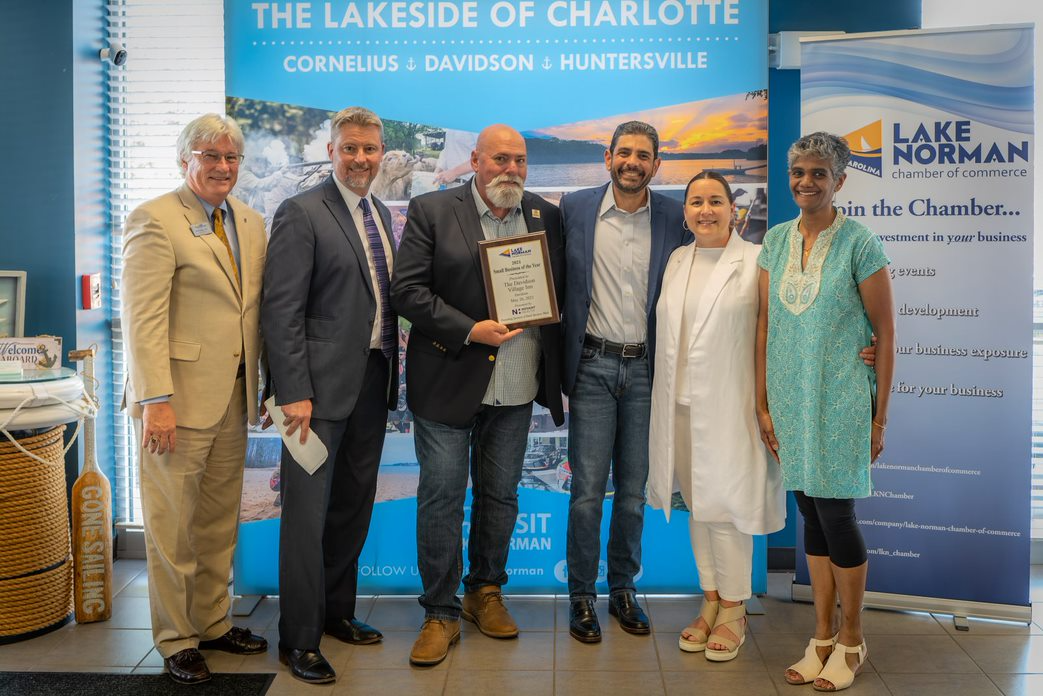 The Davidson Village Inn - Davidson
Covid Impact & The Birth of Vine Society:
In addition to developing new partnerships, processes, guidelines and sanitation protocols during Covid-19, the owners of the Davidson Village Inn realized that business as usual would not be the same for the foreseeable future. As a result, Mariano J Doble got to work on the creation of Vine Society, a wine enthusiast community focused on delivering unique wines and experiences to wine lovers in the Lake Norman area. In just one year, Vine Society has generated a community of 307 loyal followers who have come to enjoy:
A Boutique Wine Shop with over 100 carefully curated wines at the Davidson Village Inn
Over 22 Community Events including Wine Classes (Wine Appreciation, Wine Palate Development, Wine Pairing), Deep Dive Tastings, Casual Tastings and the newly launched Springtime Wine Series Tastings
Over 12 Master Sommelier Virtual Corporate Events for Corporations and Firms Located in Charlotte, New York, Washington DC, Kansas City, Los Angeles, Colorado & Miami.
A Monthly Wine Blog authored by Master Sommelier Scott Tyree and Advanced Sommelier Beth Ann Hickey
And as if that was not enough, Lake Norman Vine Society members will be traveling to Walla Walla and Red Mountain with Master Sommelier Maximilian Kast on an immersive wine journey to visit some of Washington's premier vintners and wine cellars. The future is bright for this new venture as Mariano is already planning a 2022 trip to Italy and the launch of a Master Sommelier Wine Education program for its members. In addition, the Davidson Village Inn will be converting one of their guest rooms into a Wine Tasting & Meeting Room for small classes and group meetings.
Entrepreneurship runs deep in Mariano's blood and he just can't wait to surprise us with more of what Vine Society has in the works! Mariano and Caroline Doble moved to Lake Norman in 2017 and have since become active members of our community. They are proud sponsors, supporters and volunteers of the Ada Jenkins Center, Davidson College Athletics and most recently the Cain Center for the Arts in Cornelius amongst other local programs. Mariano is also the President Elect of the Rotary Club of Davidson for the 2021-2022 Rotary Year.
Both Mariano and Caroline have worked tirelessly to secure local partnerships that support and promote local businesses. For instance, during Covid-19 the Davidson Village Inn partnered up with Famous Toastery to serve breakfast to in house guests. As a business policy, they strive to serve products from local suppliers like Summit Coffee and from local vendors when serving their own breakfasts or pairing meals during their wine events.
When asked about the Pandemic, Mariano simply stated…"It's the hardest business challenge we have endured, but we are glad it happened to us while owning a business in Davidson"…
Picture: Mariano and Caroline Doble – owners of The Davidson Village Inn receive the Small Business of the Year Award from Lake Norman 2022 Chamber Board David Keith and Bill Russell. Also pictured is Davidson Mayor Rusty Knox and Joy Penninger, Guest Services Manager. Photo by John McHugh, Ocaid Photography.
The Welcome Committee - Mooresville
The Welcome Committee has been in business for 23 years, incorporated in December, 1998, and began servicing the Lake Norman communities in January 1999 and based in Mooresville, NC.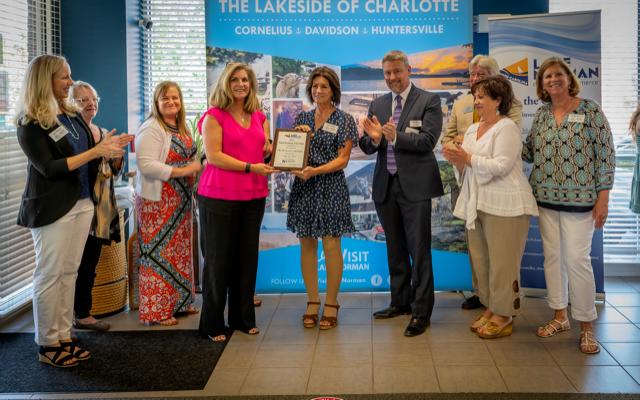 They have been a small company of ten, however with the increase in home sales this past year, the business has added one additional staff member which comprises 10% of the team (there's now 11 total) and have increased the monthly visits from 245 to 265. Welcome Committee serves the Huntersville, Cornelius, Davidson, Denver and Mooresville communities.
Suzanne Meyer, the President & Founder of the Welcome Committee is actively engaged in the community. She currently serves on the Board of Trustees and the Foundation Board of Directors of Iredell Health System. She also volunteers as a Foster Mom and Spay/Neuter Advocate with Mutty Paws Rescue, a foster-based non-profit dedicated to saving, rehabilitating and providing medical treatment for animals on death row. Since January 2021, she has rescued, fostered, and/or placed seven Code Red dogs in loving homes.
Innovative management practices which produce a successful business: Since inception, Welcome Committee has listened to what's most important to the team members to keep them happy and engaged. Each employee's input is encouraged and changes are made accordingly. The company culture is open, friendly, creative, inclusive and inviting. Welcome Committee offers a flexible, family-friendly work environment, cash incentives for signing new clients and good pay. Having a flexible work schedule is the #1 most important perk as some of the staff are single moms caring for school-age children, while others are the full-time caregivers to their elderly parents with Alzheimers or dementia, and one has a disabled spouse. Working at Welcome Committee is meaningful and gives them a purpose greater than themselves, and offers an ideal work/life balance opportunity that they whole heartedly embrace. The Welcome Committee Greeters love being Community Ambassadors and connecting new residents with their clients to help them forge lasting relationships.
Business practices which encourage repeat customers and provide a conducive atmosphere for service or retail trade - Client's needs are always top-of-mind when welcoming newcomers to the community. Welcome Committee is an extension of their marketing team and the business makes it their mission to understand and convey the client's business exactly how they would if they had the opportunity to do so in-person. Not only do their clients get a personal, face-to-face introduction to qualified, new consumers, they also receive a monthly leads list of everyone we welcomed to the community on their behalf (which includes the names, address, contact info, subdivision, where they moved from, if they have pets and/or children). Welcome Committee's clients may then follow up with multiple touches throughout the year with additional specials to stay in touch after we make the initial introduction.
Meyer states, "Many of our clients find our service an invaluable marketing tool in obtaining new customers and building their client database. Initially they sign a six-month advertising agreement, after that they're on a month-to-month basis and can drop out of the program at any time (with a 30-day written notice to cancel) if we are not producing results. So we have to be on top of our game at all times if we want to attract new clients and retain existing ones. Our list of long-term clients speaks for itself…some have been with us since our inception in 1998. Others have been with us for several years to over two decades. Some of those happy clients are Lake Norman Chamber members; Sweet Dreams Mattress & Furniture, Savvy Salon & Day Spa, KS Audio Video, Adkins Law Firm, Advanced Wealth Strategies, Randy Marion Automotive Group, Pet Paradise Resort, Novant Health-Huntersville Medical Center, to name a few."
Pictured: Suzanne Meyer, owner of The Welcome Committee receives the Small Business of the Year Award from the Lake Norman Chamber representing the Town of Mooresville. Also pictured is Mooresville Mayor Pro tem Lisa Qualls, 2022 Chamber Board Chair David Keith and President Bill Russell. Joining Suzanne are members of her staff (Left to right) Jenn Steffens, Dorothy Hensley, Randee Lerner, Joanie Guglielmi, Lorraine Dezervos. Photo by John McHugh, Ocaid Photography