Ken Haynes – Atrium Enterprise EVP & President to Provide Healthcare Update to Chamber
Ken Haynes – Atrium Enterprise EVP & President to Provide Healthcare Update to Chamber
Virtual Program Held Thursday, July 29th 9-10:00 am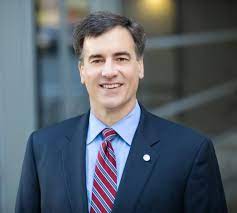 Ken D. Haynes, MSHA, MBA, FACHE, Enterprise Executive Vice President and President of the Greater Charlotte Region for Atrium Health, will provide a healthcare update in a virtual presentation to the Lake Norman Chamber of Commerce on Thursday, July 29th at 9-10:00 am. The program will be emceed by Chamber Public Policy Chair Jeff Tarte.
Atrium Health, is one of the largest non-profit and leading academic health systems in the United States. As a member of the executive leadership team, Haynes serves as the president of the multiple Charlotte tertiary and quaternary areas, all ambulatory surgery centers and free-standing emergency departments within the Greater Charlotte. Additionally, he is responsible for the strategic operational leadership and oversight of a variety of major service lines including Levine Cancer Institute, Sanger Heart and Vascular Institute, Musculoskeletal Institute, Neuroscience Institute and Levine Children's Hospital and Children's Services, as well as Atrium Health's regional facilities including Columbus Regional Healthcare System, St. Luke's Regional and Scotland Health Care System. Haynes is also responsible for Enterprise Shared Services including Nursing, Pharmacy, Laboratory, Imaging, the Facilities Management Group, Construction and Mobile Medicine.
Specifically, Haynes will be discussing the new hospital planned for Cornelius (NC) and the impact on the community and commerce; the impact of the new medical school planned for Midtown Charlotte following the announcement that Atrium Health and Wake Forest Baptist Health have partnered together on our region; as well as discussion on other mergers and acquisitions within the health care industry. To receive Zoom Credentials, contact the Lake Norman Chamber of Commerce at 704-892-1922 or contact Laura@lakenormanchamber.org.
For more information on Ken Haynes, visit Haynes Bio.