Grace Covenant Church's Pastor Farrell Lemings honored by the Lake Norman Chamber
Grace Covenant Church's Pastor Farrell Lemings honored by the Lake Norman Chamber
Pastor Lemings receives the prestigious Duke Energy Citizenship and Service Award.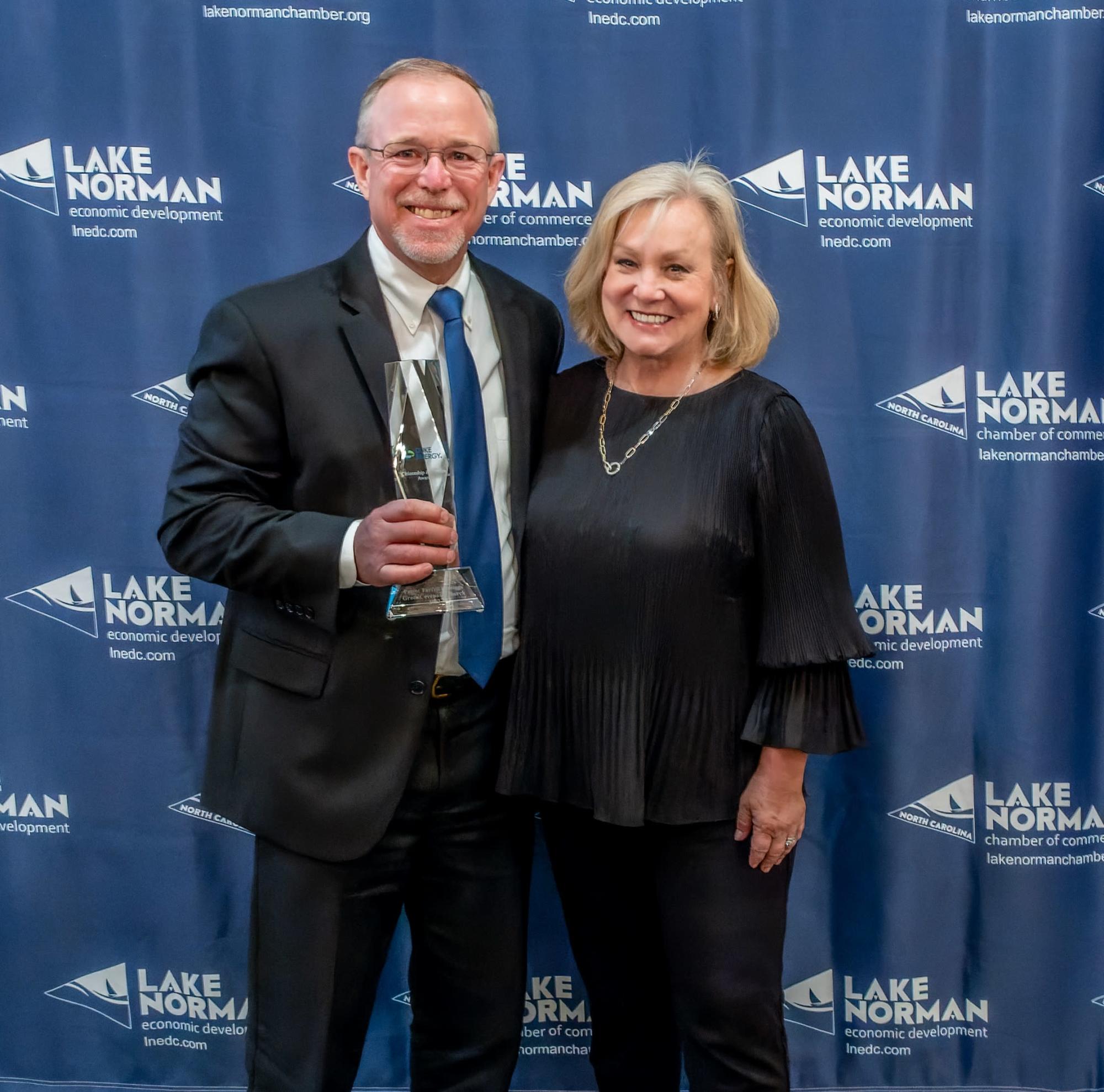 At a sold-out meeting of community and business leaders, the Lake Norman Chamber of Commerce, recognized an individual and an organization, who have gone the extra mile for the Lake Norman region. Outgoing Board Chair David Keith recognized Pastor Farrell Lemings of Grace Covenant Church with the prestigious Duke Energy Citizenship and Service Award.
Martha Wegner, Director - Charlotte Metro and West Region NC Government Affairs and Community Relations for Duke Energy, assisted Keith with the recognition. Pastor Lemings has served as the Lead Pastor at Grace Covenant for 28 years. Keith stated, "Pastor Farrell has a consistent drive to build up and empower people. He just does what he can, as often as he can, for as many as he can- while considering the impact his actions would have on his congregation. Our community has been greatly impacted by what he has done, and as he has transitioned out of the role as lead pastor for Grace Covenant, he has ensured to the best of his ability that the team in place would be led well for decades to come."
Upon receiving the award, Pastor Lemings, said "What a privilege it has been to serve the Lake Norman Community for the past 27 years. Of all the places God could have sent me to Pastor I have been blessed to serve the Lake Norman community and be apart of the awesome growth. What a great place to raise a family and pastor a Church. God has blessed my life in many ways, but one of the greatest has been the privilege of serving the Lake Norman Community. What an amazing community and what wonderful people."
The below is a partial list of Pastor Farrell Leming's accomplishments at Grace Covenant Church:
Thanksgiving Blessing Boxes (For at least 15 years – Over 3,000 Thanksgiving meals)
Building at least three habitat homes in Cornelius – and serving as part of the construction teams.
New shoe distribution in partnership with Samaritans Feet
Building and bringing the Neighborhood Care Center to Cornelius
Hosting Community Prayer Services with multiple congregations
Providing Backpacks for kids (provided to schools and through back to school bashes in underserved communities)
Blessing teachers during COVID with snack baskets and lunches
Encouraged Cornelius Police and Firefighters through annual blessing baskets, dinners and times of prayer.
Supplied other churches with food to distribute during COVID
Foster Partnerships with elementary and middle schools
Led our community on the National Day of Prayer with services on City Hall steps.
Led Community Service Projects such as "trash pick up on roads."
Presenting hot dog blessing stations during Cornelius Christmas parades
Financial blessed start up churches and the work of non-profits in Cornelius
Developed a program and collaborated with a local mobile oil change company to provide free oil changes for local single mothers while they are in church - so as not to overwhelm their schedules and ensure childcare is provided
His call as pastor has been well executed and his life shows a consistent commitment to live out the embodiment of a servant leader to the congregation at Grace Covenant, the neighborhood C.A.R.E. Center, orphans in line fork Kentucky, hundreds of impoverished families not just locally, but nationally and globally, and more. With efforts to build up folks from New York to Nicaragua, without forgetting about his commitment to those in North Carolina, he has not just participated, but led folks to serve others for more than 25 years. He has even been part of a most recent (successful) campaign to build several wells in Côte d'Ivoire - water may be something we expect here, but he's aware that there are still many places with a great need for access to clean water.