Fire Fighters of the Year Recognized by the Lake Norman Chamber
Fire Fighters of the Year Recognized by the Lake Norman Chamber
Cornelius, Davidson, and Huntersville 2022 Public Safety Officers of the Year
The Lake Norman Chamber of Commerce recognized the 2022 North Mecklenburg Public Safety Officers of the Year at a sold out luncheon presented by Wells Fargo. The Chamber has recognized the most outstanding officer selected by their Department Chiefs since 2003. Other sponsors include Lake Norman Media Group and FirstNet Built by AT&T. The event was held Thursday, October 20, 2022 at Northstone Country Club in Huntersville. On hand to make the presentation was 2022 Lake Norman Chamber Board Chair David Keith.
The below excerpts ere made by emcee Bill Russell, President & CEO of the Chamber, and in most cases represent the word of their respective Fire Chief.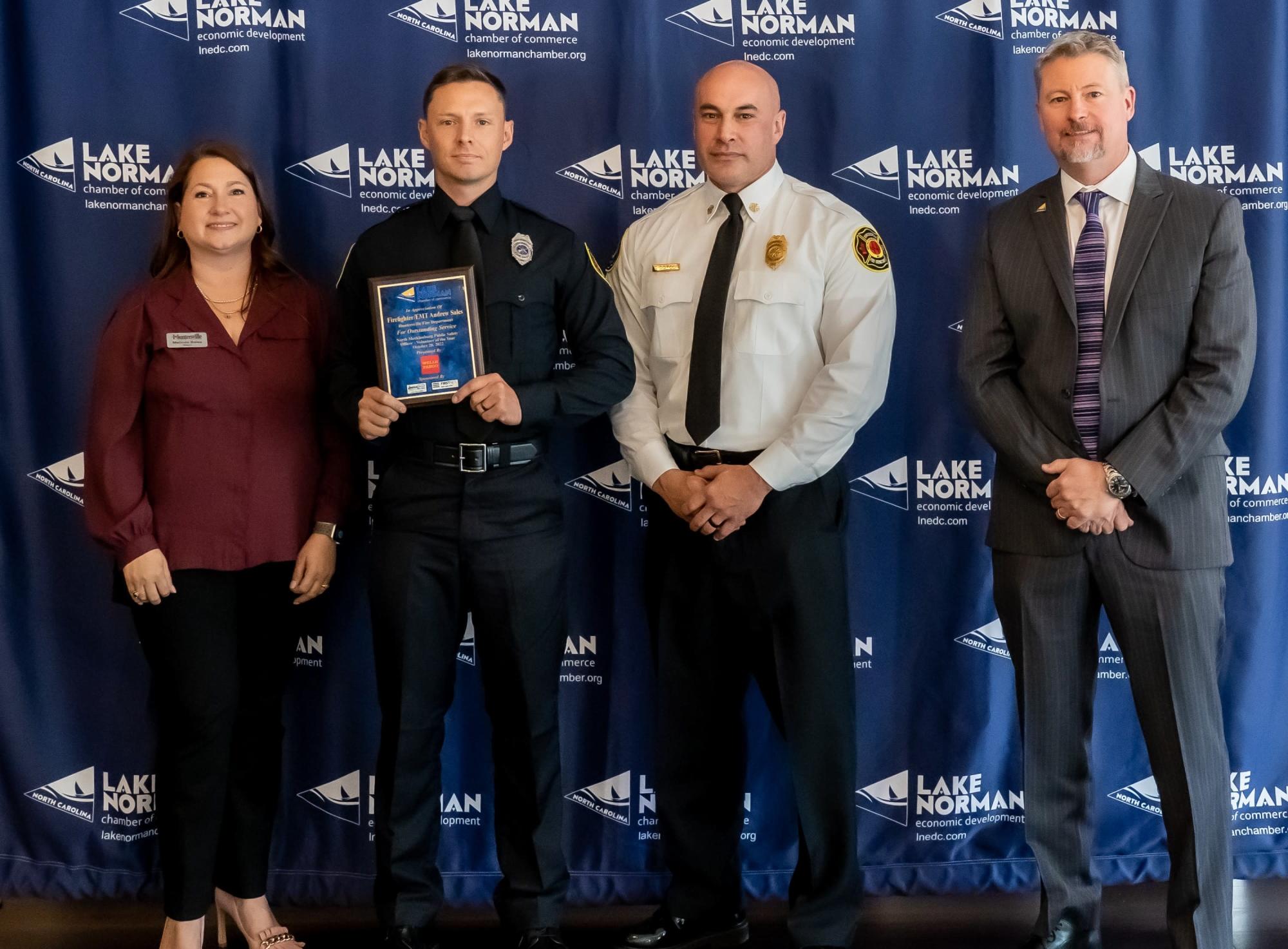 Firefighter/EMT Andrew Sales - Huntersville Fire Department
Andrew started serving his country at 19 years old in 2009 where he began his career as an Infantry assault man with the 3rd Battalion 9th Marine Core Regiment. He was then deployed to Afghanistan in 2010 and chosen to join the Scout Sniper platoon where he competed amongst my peers for a seat to the Marine Corps Scout Sniper Course.
In 2020, when he left the military his passion to serve his country led him down the road to serve his community as a firefighter for the Huntersville Fire Department. When Firefighter sales isn't working in Huntersville he also works for the East Lincoln Fire Dept where he works full-time while also remaining active with the North Carolina Army National Guard.
Since January 2020 to present Fire Fighter Sales was:
Elected by his peers and graduated as Class President at the Brown Emergency Training Center Fire Academy.
Chosen by his instructor for his exceptional physical fitness while at the BETC Fire Academy.
Completed Emergency Medical Technician course at Brown Emergency Training Center with an overall 96% GPA.
Obtained Technical Rescuer and Vehicle Rescuer certification at Brown Emergency Training Center.
Has responded to over 1,600 calls for service while on and off duty as a Huntersville firefighter.
Continues to sharpen his skills by attending 72 hours a year in advanced fire and ems training.
For these accomplishments Andrew Sales was elected as the 2022 firefighter of the year.
Captain Chip "Skippy" Carr - The Davidson Fire Department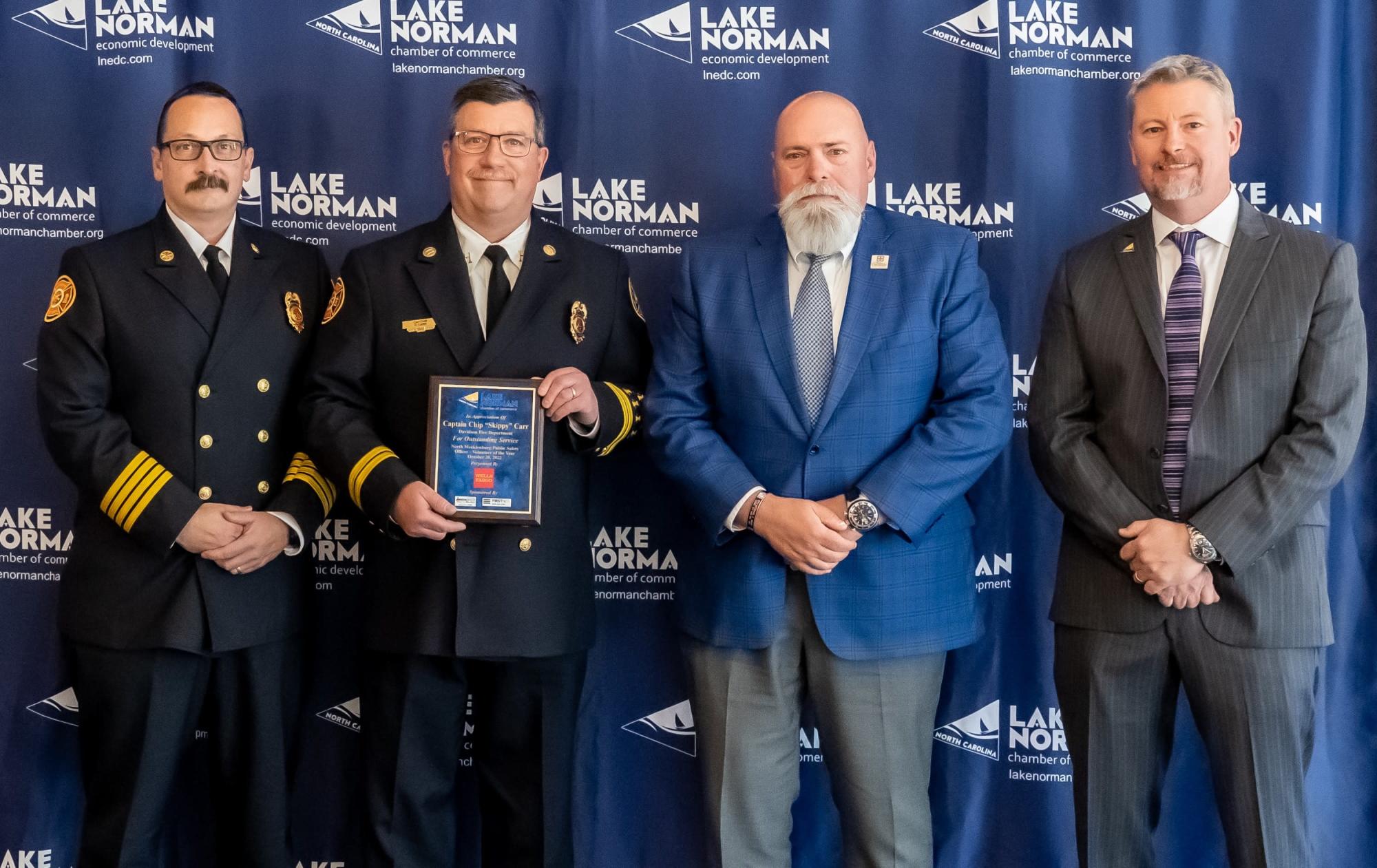 Captain Carr has been a full-time employee of the Davidson Fire Department since 2017 after spending an illustrious career with the Charlotte Fire Department. He was hired in 2017 as an Engineer and quickly immersed himself into many facets of the department to include Operations and Logistics.
Over the years he has been tasked with helping to facilitate apparatus/equipment maintenance and repair, pre-incident planning, hydrant maintenance, and uniform orders. He has previously served or is currently serving on committees ranging from personal protective equipment acquisition, apparatus design and purchasing, to development of the departments five-year comprehensive Strategic Plan. His years of experience and knowledge base has allowed the department to utilize him in areas that reflect his diverse skillset.
In April of 2022, Skippy was promoted to the rank of Captain. He was part of an initial group of full time Captain's that had been budgeted for by the Town of Davidson. Since making the transition to an officer position, he has worked daily to refine his skill sets and his knowledge base of the department and the town.
Captain Carr is a fantastic officer within the department who ensures that his and his crews actions reflect the mission statements of the Davidson Fire Department and the Town of Davidson. His experience and knowledge are a benefit to the department and to the citizens that he serves. He brings a "calming" presence within the department and is looked to as trustworthy and dedicated.
He ensures that his crew is properly trained and prepared to deliver the most effective emergency service delivery to the residents and visitors of Davidson.
Captain Joey Slagle - Cornelius-Lemley Fire Rescue Department
Joey came to us via South Boston, Virginia where his family has a rich history in the fire service. He is a career firefighter for the City of Charlotte where he is assigned to Tower 18 on the westside of Charlotte.
One could say that the two most vital pieces in running a successful fire department are its personnel and its apparatus. Joey plays a vital role in both but his main responsibility is apparatus repair and maintenance. Joey manages a fleet of thirteen apparatus and the firefighting and rescue equipment associated with them. This is no easy task considering that firefighters must have a well equipped and well maintained fire truck to respond to any and all emergencies in town.
Joey is also very well versed in the world of firefighting, in fact I would have no problem stating that he is one of the leaders in his field when discussing Ladder Company operations. Joey has taken a vested interest in teaching and training our firefighters to be the best they can be. He has a special ability to be able to convey his message and teach all the different demographics of personnel in our department. He can teach the brand new rookie, the old salty veteran firefighter and any and all in between. In addition to his responsibilities in Cornelius he is an instructor at the National Fireground Training Facility, a state-of-the-art, 50-acre, firefighting academy located near Indianapolis, Indiana.
The Academy operates multiple training and burn buildings designed to replicate most fireground situations encountered by firefighters during actual responses. All buildings are designed to provide students with the most realistic fireground training environment possible. Joey teaches firefighter rescue and survival as well as forcible entry.
We are extremely lucky to have Joey as a Captain in our fire department and are very thankful that he chooses to serve the citizens of Cornelius.