FeedNC Honored by the Lake Norman Chamber with Duke Energy Citizenship & Service Award
FeedNC Honored by the Lake Norman Chamber with Duke Energy Citizenship & Service Award
Formerly Mooresville Soup Kitchen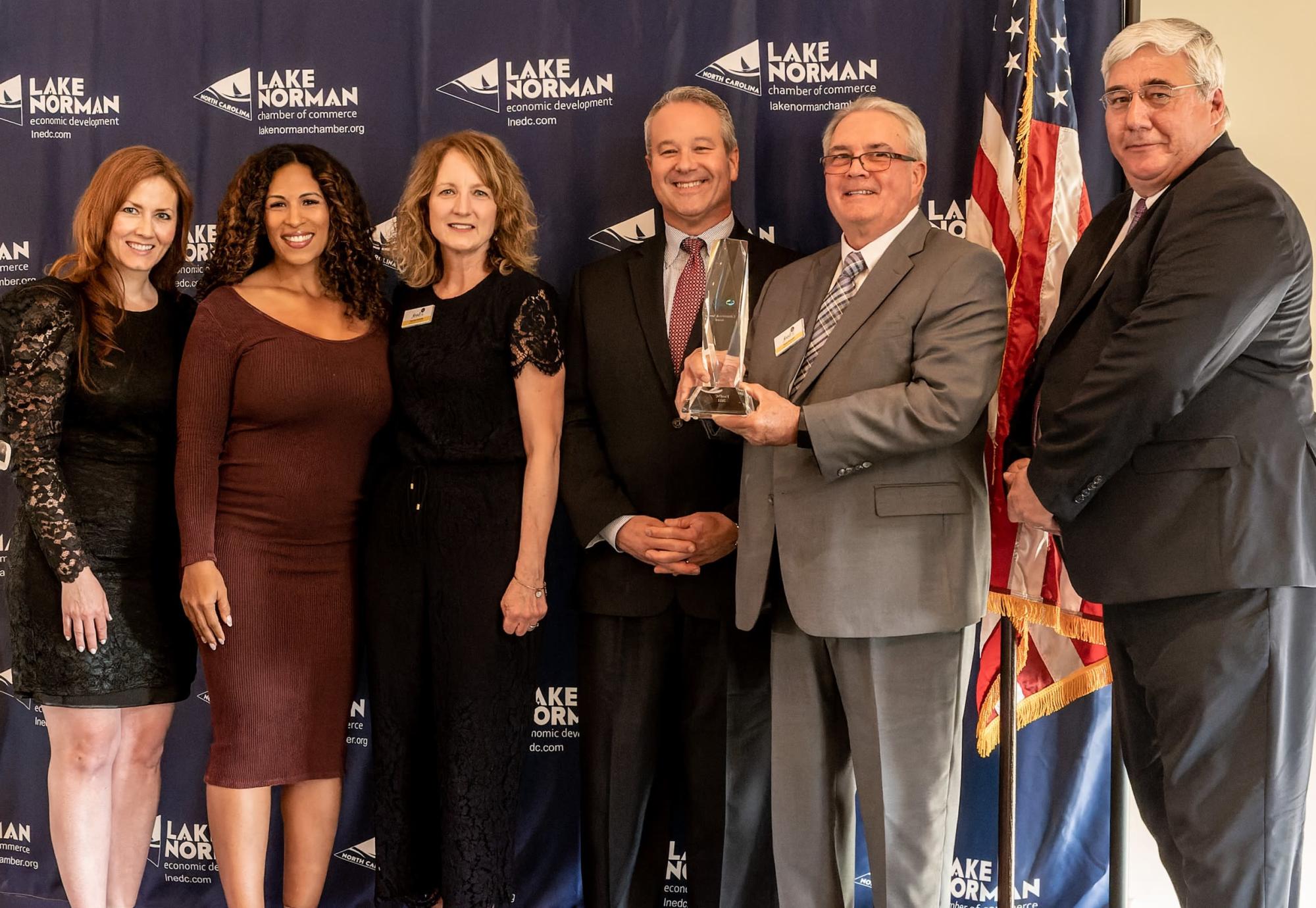 At a sold out meeting of community and business leaders, the Lake Norman Chamber of Commerce, recognized an organization that has gone the extra mile for the Lake Norman region. Outgoing Board Chair Erika Erlenbach recognized Bonnie Battalia, Development Director for FeedNC (Formerly the Mooresville Soup Kitchen), and some of her key staff and volunteers with the prestigious Duke Energy Citizenship and Service Award.
Christine Pulley, Lead Communications Consultant - McGuire Nuclear Station, Duke Energy, assisted Erlenbach with the recognition. Upon receiving the award, Battalia said, "FeedNC is honored to be recognized as the recipient of The Duke Energy Citizenship and Service Award. We thank the Lake Norman Chamber, Duke Energy, and the community for your support. Hunger is a community problem that deserves a community solution."
"Last year, over 1300 volunteers gave 33,000 hours of their time to FeedNC. Volunteer cook teams prepared, cooked, and served over 22,000 hot meals to those who are in need. The community's financial support of our programs and services improved the quality of life of over 3400 individuals and families facing financial hardships. FeedNC vows to be good stewards of what this award represents and each day, make a positive impact in the lives of those we serve. "
Full context of Christine Pulley's remarks:
Duke Energy is privileged to work with many outstanding chambers throughout our service area in recognizing individuals or groups who go the extra mile for our community. The Duke Energy Citizenship and Service Award is a tribute to those who make a difference in their communities or places of work by using their time, talents and philanthropy to positively impact the lives of others.
Recipients of the award help foster a culture of citizenship and service that acts as a catalyst for others to become involved in civic and social activities. It is these types of efforts that bring us closer together as a region and a nation.
Since 1987, FeedNC, formerly the NC Soup Kitchen has been nourishing the body and soul of community members in need. Last year, they served 3,400 individuals. With the support of volunteers, donors and community partnerships, FeedNC's impact in the community and region is continuing to grow and they are Building a Bigger Table. Their new home will be located at 2456 Charlotte Highway in Mooresville. Their goal of $6.5 million is in reach and they anticipate moving into their new home in 2023. Our Citizenship & Service Award this year is FeedNC.
Caption 2021 Lake Norman Chamber Board Chair Erika Erlenbach presents Bonnie Battalia - Development Director, FeedNC with the Duke Energy Citizenship & Service Award. Also pictured (left to right) Christina Pulley – Duke Energy, Paul Mihelich- FeedNC Volunteer Coordinator, Reed Vought- FeedNC Operations Director, and John Donoghue -Campaign Co-Chair, Donor, and friend of FeedNC. Photo courtesy of John McHugh / Ocaid Photography