Charles Knox Jr. Selected as Lake Norman's Business Person of the Year Founder of The Knox Group
Charles Knox Jr. Selected as Lake Norman's Business Person of the Year Founder of The Knox Group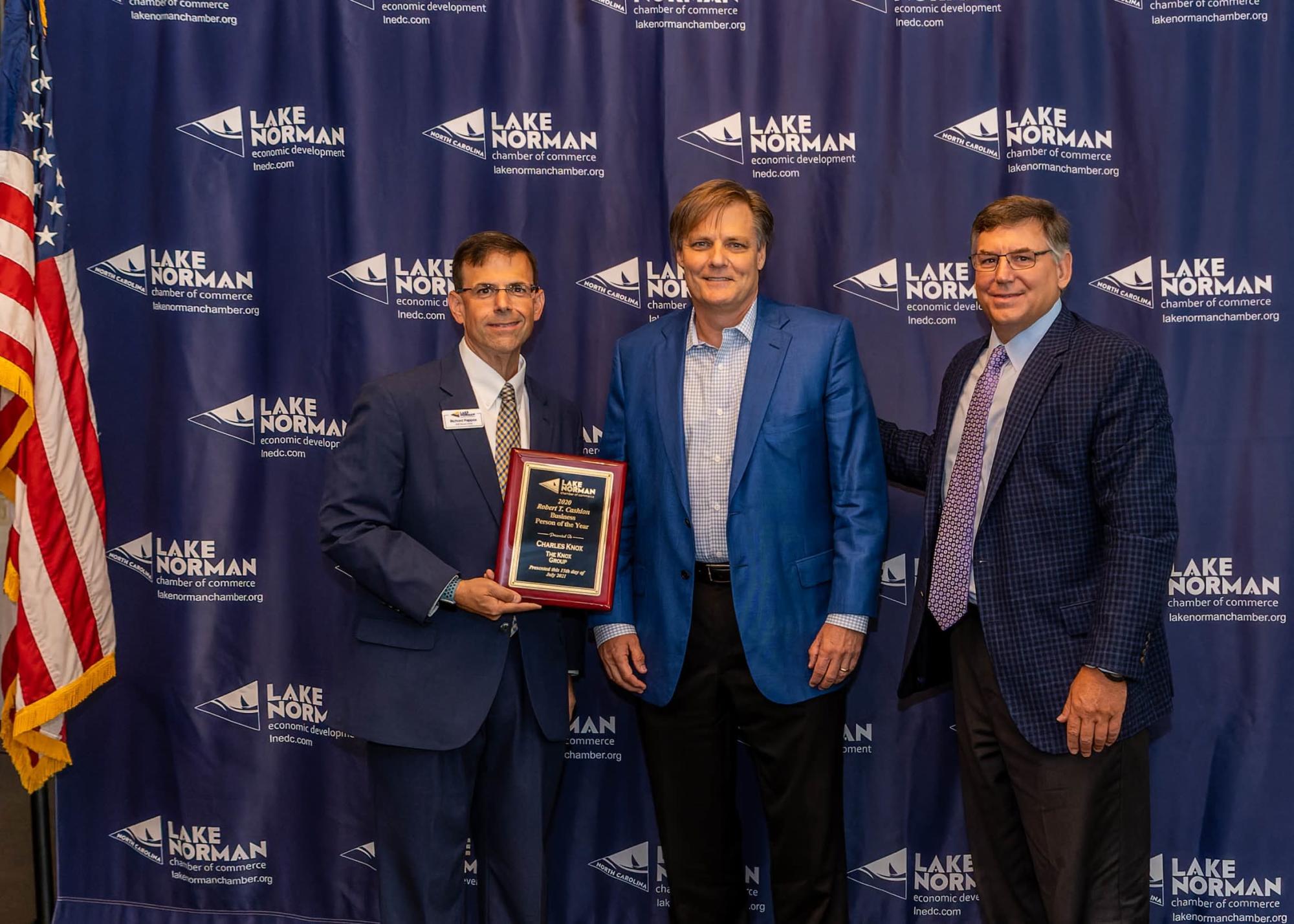 The Lake Norman Chamber of Commerce recognized Charles Knox Jr. as the Robert T. Cashion Person of the Year before a sold out gathering of chamber and community leaders last week at NorthStone Country Club. Presenting the award to the commercial realtor was Bobby Cashion, son of Robert T. Cashion, for whom the award is named. Cashion recognized the solid reputation Knox has created in the community as the founder of The Knox Group and a Board Chair of Aquesta Bank from 2013-2018.
Cashion In his full remarks to the 200 business leaders stated, "This individual may be one of the single most engaged business members of our chamber. Since his time as Board Chairman of the Chamber in 2000, he chaired the Charlotte Regional Roads Committee and has continued to serve on the Hwy 73 Council of Planning. This past year, he has been actively involved in a new program the Chamber has created called Leaders and Legends. As a Charlotte native and Davidson College graduate, Charles has been an active part of the Lake Norman Community form most of his professional life.
He founded The Knox Group 30-years ago which has been part of much of the development of our community. For Charles and his business partners, creating value is more than putting dollars in the bank, it's about creating places that enhance our community. It is about helping clients succeed in their businesses and investments. It is about fostering relationships with his team and clients that help them grow and succeed professionally, but more importantly, succeed in life. While working to add value to their clients, Charles and his partners support our community in many ways, serving on various committees and boards, and activity donating to local health, youth, and healthcare organization.
The Knox Group has built a solid reputation in the industry due to Charles' eye towards excellence and personal commitment to each client's individual needs and goals. Clients of the company will tell you that Charles is fair and compassionate. During this past year's challenges, he worked with tenants allowing those severely impacted by Covid to delay payments. He did not lay off staff and worked with clients to ensure they had the ability to weather the storm Covid brought to many businesses. Even during busy times Charles takes time to remain involved in his community.
He was a founding member of the board of Aquesta Bank and served as its chairman for several years. For its size, Aquesta was one of the leading banks in the nation providing PPP loans during the crisis. Charles has been a founder, board director, and active member of the Charlotte Chapter of the Entrepreneurs' Organization for 22 years and is currently serving on its board again after leading it as the Chair in 2002.
His clients share that their comfort level increases tremendously when undertaking business with someone you know and who knows you, your family, and your goals.
Charles' reputation in the Charlotte Metropolitan area is based on trust and integrity. He devotes substantial time to working directly with local business and property owners, investors, and his peers in the field. Charles is a proud member of the Knox Family which has been a part of the region for over 150 years. He strives to make sure every real estate development The Knox Group undertakes makes a positive contribution to the long-term health of the community.
It is no surprise that the majority of The Knox Group's work is with repeat clients or with people referred by their clients.
Jim Engel President of Aquesta added, " I know Charles the best as one of the original founding board members for Aquesta Bank and his years of service as Chairman of the Board as well as critical subcommittee roles, such as Strategic Planning Committee and Directors Loan Committee member. As Chairman of our Board of Directors from 2013 thru 2018, Charles was instrumental in helping to steer Aquest back from the "Great Recession" to a focus on business growth and branch expansion. More recently, Charles served as a member of our Strategic Planning Committee and was consequently instrumental in our recent announced plans to merge with United Community Bank. In short, I have known Charles both personally and professionally and cannot think of anyone more deserving than Charles of the Business Person of the year honor."
Knox is pictured with Richard Pappas, the 2020 Board Chair of the Lake Norman Chamber and Bobby Cashion. Photo by John McHugh / Ocaid Photography.