Allen Tate CEO Pat Riley to Provide Real Estate Economic Forecast
Allen Tate CEO Pat Riley to Provide Real Estate Economic Forecast
Wednesday, March 10th 2-3 pm at the Chamber: Limited Seating / Virtual ZOOM for remaining guests
Published Tuesday, March 2, 2021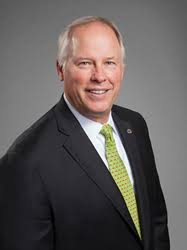 Pat Riley, the President & CEO of Allen Tate Family of Companies, will provide an overview of the residential real estate market when he speaks to Lake Norman Chamber members Wednesday, March 10th 2-3 pm at the Lake Norman Chamber of Commerce - Randy Marion Board Room Suite 201. The Presentation is entitled: 2021 Real Estate & Economic Forecast - Perspectives on National, Regional & Local Real Estate.
Seating will be limited to 15 people in person with other attendees joining via ZOOM. Participants must RSVP to the Lake Norman Chamber of Commerce at 704-892-1922 or email sylvia@lakenormanchamber.org. Masks and social distancing are required. Please note: This event WILL NOT be recorded. It a real time event only as some information shared may be proprietary.
Riley began his career in the real estate business in 1972 and with the Allen Tate Companies since 1992. Pat Riley guides all aspects of the 64-year-old company as the region's industry leader.
Allen Tate is the #1 real estate firm in the Carolinas, based on closed transaction sides. In 2018, the company formed a partnership with Pittsburgh, Pa.-based Howard Hanna Real Estate and now ranks #1 among the country's largest independently owned, non-franchised brokers, and #4 among the Top 500 brokers. In 2020, Allen Tate closed 19,549 transactions totaling $6.15 billion in NC and SC.
The companies have more than 12,000 Realtors® and employees working from more than 350 offices in 11 states, including 1,600 Allen Tate Realtors in 45 local offices throughout the greater Charlotte, Triad, Triangle and High-Country regions of North Carolina and the Upstate region of South Carolina.
Bill Russell, President & CEO of the Lake Norman Chamber of Commerce, is excited to have Riley speak to Chamber Members on the residential real estate market. "I have known Pat since he served as Board Chair of the Charlotte Chamber of Commerce and led our 17-area chambers on the Regional Roads Committee. He is extremely accomplished both in the field of real estate and in his civic leadership with the Arts and Science Council, Charlotte Mecklenburg Schools Foundation, Boy Scouts, and CPCC. Even during the COVID pandemic, real estate, particularly residential real estate, has been booming throughout the Charlotte region. I know the business community would be very interested in hearing his perspective on what we can expect over the next 12-18 months."
The Lake Norman Chamber of Commerce, with approximately 900 members, serves the Cornelius, Davidson, Huntersville and greater Lake Norman regional business community.