A Conversation with North Carolina's New Chief Justice - The Honorable Paul Newby
A Conversation with North Carolina's New Chief Justice - The Honorable Paul Newby
Focus Friday - Focus on N.C. Courts Friday Feb 19 8:30 am ZOOM Virtual Program
Published Monday, February 15, 2021
This month, the Lake Norman Chamber will continue our monthly Focus Friday in a ZOOM Virtual Format only. It will take place Friday, February 19th from 8:30-9:30 am. Our speaker is North Carolina Supreme Court Justice Paul Newby. Justice Newby became North Carolina's 30th Supreme Court Chief justice on January 1, 2021. He will be discussing the North Carolina Court System and what issues may come before the court impacting business. Judge Newby will not be able to get into the specifics of any one case he may have to preside over in the future.
In addition to the legislative briefing, the Chamber will hear from Jennifer Huskey, Specialist-PRN Community Engagement for Novant Health Huntersville Medical Center on a healthcare update.
Focus Friday is a public policy program of the Lake Norman Chamber of Commerce which examines community and legislative issues from multiple perspectives. While intended for Lake Norman Chamber of Commerce members and community leaders, guests are welcome by RSVP to the Chamber at 704-892-1922.
EVERYONE MUST REGISTER with Sylvia Spury at Sylvia@lakenormanchamber.org or call 704-892-1922 and a Zoom link will be forwarded to you to join this outstanding presentation.
The program is presented by Novant Health - Huntersville Medical Center and sponsored by Business Today and WSIC 105.9 FM.
The Lake Norman Chamber of Commerce, with approximately 850 business members, represents the Huntersville, Davidson, Cornelius, and greater Lake Norman regional business community.
About our Speaker: Chief Justice Paul Newby
Date of Birth: May 5, 1955
Place of Birth: Asheboro, North Carolina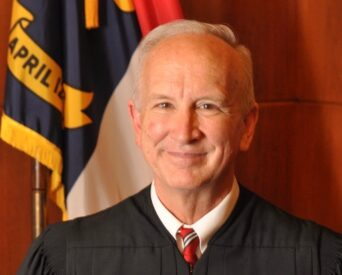 Paul Martin Newby is the 30th Chief Justice of the Supreme Court of North Carolina, having first been elected in 2004. Justice Newby is an Adjunct Professor at Campbell University School of Law, where he teaches courses on state constitutional law and appellate practice. He is also the co-author of The North Carolina State Constitution with History and Commentary (2d ed. 2013) with Professor John V. Orth of the University of North Carolina School of Law. The North Carolina Bar Association honored Justice Newby in 2011 with its Citizen Lawyer Award, and in 2012 he received its John McNeill Smith, Jr. Award, recognizing his work in the area of constitutional rights and responsibilities. In recognition of his professional service, Justice Newby received the James Iredell Award and an Honorary Doctor of Laws from Southern Wesleyan University.
Justice Newby works to enhance professionalism among North Carolina's lawyers serving as chair of the Commission on Professionalism. Justice Newby co-chairs the Chief Justice's civic education initiative, traveling across North Carolina to meet with school and civic groups to discuss the Supreme Court and the role of the judiciary. He is the Court's liaison to the North Carolina Business Court and the North Carolina Board of Law Examiners. He is a frequent judge at various moot court and mock trial events. Justice Newby speaks to lawyers and judges from around the world about the American legal system and the rule of law, including groups of international parliamentarians and judges for the Open World Program, sponsored by the Library of Congress. He has been an instructor for the North Carolina Judicial College and various continuing legal education courses.
Justice Newby actively participates in the North Carolina Bar Association. He is currently a member of the Justice and Judiciary Committee (2018-present). In the past, Justice Newby has served on the Strategic Planning & Emerging Trends Committee (2015-2018), the Appellate Practice Section Council (2015-2016), International Law Section Council (2010-2015), the Technology Advisory Committee (2005-2011), the Litigation Council (2005-2011), and as Vice President (2008-2009).
Born in Asheboro, North Carolina on May 5, 1955 to Samuel O. and Ruth Parks Newby, he was raised in Jamestown where he graduated from Ragsdale High School. He received a Bachelor of Arts degree in Public Policy Studies (magna cum laude) from Duke University and a Juris Doctor from the University of North Carolina School of Law. Before beginning his legal career, Justice Newby served as a judicial intern in the United States Supreme Court and interned in the 18th Judicial District Public Defender's Office (Greensboro/High Point). He began his law practice in Asheville with Van Winkle, Buck, Wall, Starnes, and Davis, P.A. and later served as Vice President and General Counsel of Cannon Mills Realty and Development Corporation in Kannapolis. In 1985, Justice Newby was appointed as an Assistant United States Attorney for the Eastern District of North Carolina in Raleigh where he served for over nineteen years. During this time, he taught many courses for the United States Department of Justice and received the Crime Victims Fund Award. He also played an integral role in conducting the undercover sting operation which recovered North Carolina's original copy of the Bill of Rights, stolen during the Civil War.
Justice Newby is an Eagle Scout and is the recipient of the Heroism Award for rescuing nine people from a riptide, the God and Service Award, the Silver Beaver Award, and the Scouter of the Year Award. In 2012, Justice Newby was designated a Distinguished Eagle Scout, a national honor that recognizes both his service to the Boy Scouts and his dedication to public service.
Justice Newby has been married to Macon Tucker Newby since 1983, and they have four children. He and his wife attend Christ Baptist Church in Raleigh where he is an Elder and Sunday School teacher.